Drums
Talk

0
1,514pages on
this wiki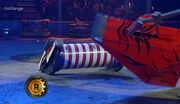 Spinning Drums were spinning weapons mounted to spin vertically. Despite popularity in the US, the drum never really took off in Europe. Only Dutch champion Slicer and UK Champion Tornado really used them to full potential.
Drums would become a lot more notable after Robot Wars in the US, Combat Robot Hall of Fame honourable mentions Solaris and Professor Chaos both equipped with them and showing their true potential.
Definition
Edit
Drums were cylindrical and thicker than vertical flywheels. They were always mounted vertically and used barbs to damage and flip opponents over.
Advantages and Disadvantages
Edit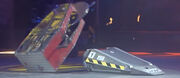 Advantages
The weapon itself was broader and more sturdy than the flywheel. This meant that it offered a broader range of attack.
They were capable of flipping opponents. Barber-Ous was the most effective at this, doing so against Kat 3 and Leveler 2.
Disadvantages
The massive weight of spinning drums meant that they required a great deal of battery power.
The recoil from impact could cause the robot to do damage to itself. This cost Barber-Ous 2'n a Bit in Series 7.
List of Robots with Drums
Edit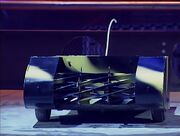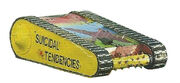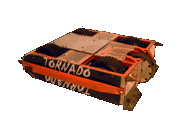 Robots are listed alphabetically. Robots that are not heavyweight are listed with a green background.

This Robot Wars related article is a stub. You can help Robot Wars Wiki by expanding it.