Drills
Talk

0
1,514pages on
this wiki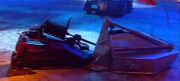 Drills were a type of face spinner, a subcategory of rotating weapons.
There were two basic ways to make a drilling weapon. One was to place a spear or drill bit directly onto the axle so that the weapon functioned like a traditional hand drill. The other was to take two spears and place them opposite each other on the disc, an equal distance away from the centre.
The successful US competitor Drillzilla did feature a drill, but its victories were mostly due to its immense pushing power and the extra weight allowance it was granted for being a walker. The most famous drill was almost certainly Sir Killalot's lance.
Definition
Edit
Drills (or Hole Saws) referred to any face spinner with spears on the face. The spear or spears were mounted parallel to the axle of the spin motor.
Advantages and Disadvantages
Edit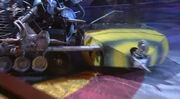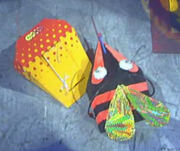 Advantages
Drills, like chainsaws, were very easy to attach as they were simply installed from ordinary construction tools.
Sir Killalot's lance showed how easy it was for a drill to pierce fragile armour and skewer into positions for easy hold.
Disadvantages
Drills faced many of the same problems as spears: they were difficult to get into position, and when they made contact, the resultant damage was minimal. This was shown by Ming Dienasty, as it could only chip the front of Ceros with a direct attack.
Being extremely narrow, facing one direction and requiring a sustained attack to cause damage, drills were very easy to dodge or shrug off by enemy robots. Bee-Capitator's weapon posed no threat to Firestorm 3.
List of Robots with Drills
Edit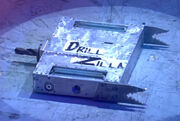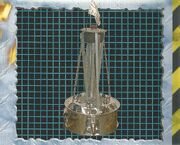 Robots are listed alphabetically. Robots that are not heavyweight are listed with a green background. House robots are listed with a red background.

This Robot Wars related article is a stub. You can help Robot Wars Wiki by expanding it.