"Will it create nought but dread from its lifting fork weapons?"
— Jonathan Pearce in Series 4
Dreadnaut (sometimes spelled Dreadnaught or Dreadnought and known as Dreadnaut XP-1 in Series 4) was a competitor robot that fought in the first four series of Robot Wars. Plagued by a lack of reliability, Dreadnaut struggled in its Robot Wars career, but did make the Heat Final of Series 3 where it lost to Trident.
During Robot Wars' hiatus, Dreadnaut XP-1 was bought by Team Cookie Monsters, builders of Chompalot, but without its internal components. It is currently on loan to the Derby Silk Mill museum.
Versions of Dreadnaut
Edit
Throughout its appearances, Dreadnaut followed roughly the same design; a dome-shaped robot with lifting forks. While a powerful and consistent performer - never failing to progress beyond its Gauntlet runs or first round battles - Dreadnaut suffered many reliability problems throughout its appearances, breaking down four times throughout its first three series and losing its Series 2 battle against Oblivion after the team accidentally knocked out its removable link while preparing it. Additionally, it had a high ground clearance and lack of self-righting mechanism, which cost Dreadnaut XP-1 in its Series 4 battle against Thermidor 2.
"The fibreglass-protected Dreadnaut runs off a 12 volt starter motor, salvaged from a Morris Marina. At 5mph, not the fastest robot in the field, but certainly weighing in at 92.6 kilos!"
— Jonathan Pearce introduces Dreadnaut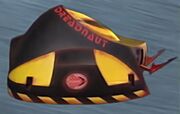 Dreadnaut was a dome-shaped robot with a fibreglass shell intrinsically designed to look like a small tank, similar to the Dreadnaut tank from the PlayStation 1 game Future Cop LAPD. It initially featured a black and yellow shell, was armed with a set of small red lifting forks at the front, and was powered by a starter motor from a Morris Minor. It was much taller than most other Series 1 competitors, at 75cm.
"...the whopping great switches ( from an electric bus) which were needed to cope with the high current drain of the three car starter motors. Unforunately we only had one earth cable which obviously couldn't cope! The wheels were driven via a chain and sprockets, but weren't really geared down enough, which made it fast (initially) but difficult to control. Steering was improved by fixing the two rear castors in a straight line. (A useful tip for anyone using rear castors.) ... I work as a freelance car design sculptor and were able to use many of those techniques to help us build Dreadnaut. The body had to be made that tall to accomodate the height of the fork motor. The fixings of the body were adjustable to give different ground clearances."
— Dreadnaut website on the original Dreadnaut[1]
In Series 1, Dreadnaut weighed 92.6kg, making it the second-heaviest robot in that series after Barry, and heavy enough for it to be considered a Super Heavyweight. The robot was only finished the day of filming.
"After almost working through the night, Dreadnaut is finished in the early hours of the day we were due to take it to London. No time for a test drive, which was a shame as it was impossible to control until we fixed the rear castors."
— Dreadnaut website on finishing Dreadnaut
"Another first wars veteran is back, and with improved weaponry: fantastically frightening forklifts! Can lift up to 70 kilos! It has directional change relays. The original wheelchair motors were a bargain, the improvements £200! Will it prove money well spent for the yellow and black bubble?"
— Jonathan Pearce introduces Dreadnaut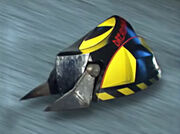 In Series 2, Dreadnaut's front forks were replaced with 3mm hardened steel ones, which were designed to gouge welts in opponents' armour as well as lift them more effectively, the drive mechanism for the forks being lowered down considerably. The robot also had revised side armour, using the repaired original shell, and directional change relays added, the latter costing an extra £200 to install. The internals were improved, with the motors and batteries being replaced. Dreadnaut's weight was also reduced considerably in comparison to its Series 1 form, at 80.8kg, although this was still 1.4kg over the original Heavyweight limit.
"All of our starter motors were shot in the first war and so we invested in three second hand wheelchair motors at about fifty quid each. The borrowed 30ah aircraft battery had to go back to work and so we also bought a couple of 15ah wheelchair gel batteries at 20 quid apiece. The motors came with their own wheels attached and so fortunately bolted straight on to the frame. Even though we hadn't had chance to use the forks in anger in the first war, we still thought they were a good idea and decided to power them with a 16v battery drill which cost us about £35. The bodywork was then repaired and strengthened ( not half enough as it turned out!) and cut away to fit the new size forks. Finally we gave it a new paint job and went for a shiny new look instead of the weathered look we had first time."
— Dreadnaut website on the upgrades to Dreadnaut[2]
"For the third wars, we wanted to make Dreadnaut a little different, but still keep the general look and layout of the original. So we hit on the idea of having the original Dreadnaut taken over by an alien organism ... This also gave me a chance to do a bit more modelling. A lot more as it turned out! ... the new bodywork was built on top of the old one, but there wasn't a lot of the old shape left."
— Dreadnaut website[3]
After having its bodyshell seriously damaged by Sir Killalot in Series 2, Dreadnaut appeared in Series 3 with a new silver and orange/red shell, which had a green section at the back, which was supposed to represent an alien organism. which had which was lower than the shell used in the first two series. Its forks also received an upgraded motor which allowed them to lift 70kg, which it demonstrated in its first round battle against Psychokiller. In this series, Dreadnaut was spelt as Dreadnaught.
"Using many parts from the old version of Dreadnaut, this Robot Wars vet returns with a new mechanism and motor for the forklift, a new body shell design. Opponents, your future hangs on the decision of Judge Dread!"
— Jonathan Pearce describes Dreadnaught
Dreadnaut XP-1
Edit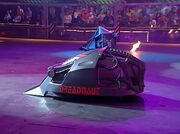 "We didn't sustain much damage in the third wars and so the bodywork was pretty much o.k. So we put it to one side and concentrated on the 'gubbins'. One major job was a complete rewire to simplify the wiring and make it look alittle more tidy and proffessional. The reason we went out in the third war was because we lost power to both the wheels, and we dreaded the worst. A quick inspection of the motors however, revealed that it was a simple task of tightening up a couple of grubscrews which connected the drive cogs to the motor shaft. So that was sorted.(Our downfall as it turned out!)"
— Dreadnaut website[4]
For Series 4, Dreadnaut was renamed Dreadnaut XP-1 - the 'XP-1' part stood for 'Experimental Prototype 1' - and featured a rebuilt chassis and new lifting forks which were slower, but more powerful than before. They were now powered by cycle starter motors.
"The major thing to sort out was the fork motor. So far the forks had been a big dissappointment in terms of their effectiveness and so we wanted to make them more powerful, without resorting to using pneumatics, which we knew nothing about. We decided to use motor cycle starter motors, as they were cheap (around £15 each) and quite powerful. They are also series motors which we know from the first wars are difficult to reverse, and so we used two opposing motors with a large cog between them which was connected to the fork drive screw."
— Dreadnaut website
"When did it all start? Well for us it started with a small advert in 'Sci-fi & Fantasy Model magazine', January 1996. "Robot Wars needs you!". After seeing a little of the American version sometime before, I couldn't resist the challenge and so duly sent off for some info. It must have been getting on for twelve months before I heard anything more. But eventually a meeting was arranged in Birmingham to come and see what it was all about, and so I took David ( my brother-in-law) along with me. There we met Steve, the producer and Mary-Jane and the crew and saw the only British robot ever to have competed in Robot Wars (USA) at that time (Wysiwyg). Well that was it! There was no stopping us and after a lot of work, and numerous filming delays, the first 'Wars' was filmed at Victoria docks in November 1997."
— Dreadnaut website on the origins of Dreadnaut
The Dreadnaut team, know as The Blade Runners, was formed by Ken Feltwell, with his brother-in-law Dave Vowles. Ken was the Team Captain, but in Series 3, he was absent, having been on holiday at the time of filming. He was replaced by Dave's daughter, Faye Vowles, who was also present for Series 4.
"Series three was due to be filmed in July 1999. Due to many setbacks, such as the lack of a venue (the Victoria docks warehouses were taken over for Millenium Dome business.) the filming was postponed and was eventually set for the end of October. Unfortunately, I was so keen to be on the programme that I decided to avoid going on holiday in July and go away in...October! Typical isn't it. So Dave's daughter Faye was drafted in to keep him company and we carried on to complete Dreadnaut3."
— Dreadnaut website explains Ken Feltwell's abscence
Robot History
Edit
"...and the Dreadnaut's greatest asset here, driven by the brothers-in-law Kevin and David, could be its weight - it looks like a big slug!"
— Jonathan Pearce as Dreadnaut starts its Gauntlet run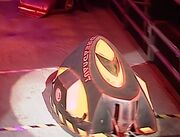 In the First Wars, Dreadnaut fought in Heat C. Despite the robot only having a top speed of 5 mph, Dreadnaut started quickly as it went down the left route, but drove into the block separating routes. This caused it to bounce into Shunt. Despite Shunt pushing it into a pyramid, Dreadnaut quickly got off and darted down the course.
"There's the power of that Morris starter motor engine!"
— Jonathan Pearce
However, Dead Metal caught it and pushed it back. and completed its run superbly, placing it second on the leaderboard overall. Dead Metal let Dreadnaut go, and as Shunt came after it, Dreadnaut sped down the course to the end. This put them first on the leader board.
Jeremy Clarkson: "Just for a minute, I thought you were going to get pushed all the way back!"
Ken Feltwell: "I thought we were as well, I was a bit worried there, but we managed it, I was amazed! We did it!"
— Post-Gauntlet interview
However, it then caught fire after slamming the arena barrier at the end of the run. The team returned to the pits realising that the robot needed a full rewiring.
"Hang on a minute, what's this? Dreadnaut's blown some sort a fuse, it's on fire! This could be major, major trouble, they'll have to repair this quickly. Otherwise, they'll be forced to retire!"
— Jonathan Pearce as Dreadnaut billows smoke.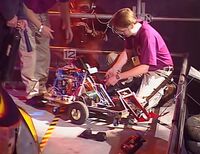 There was some uncertainty about whether or not Dreadnaut would be forced to withdraw, in which case Plunderbird 1 would be reinstated, but Dreadnaut was repaired just before the Trial stage was ready to commence and Plunderbird 1 was eliminated from the competition.
"Well, we've got it working again. We've had to take out the motor we use for the forklifts and put it in as a drive motor, because the other one shorted out. It's completely gone. so we've now not got any attack mechanism, so we've tried to adjust it so it's now more defensive, we can try and scoop the ball up and use it to move the football!"
— Dave Vowles explains the repairs to Dreadnaut to Philippa Forrester
In the Trial, which for this heat was Football.
Dreadnaut started by driving at the ball, but Robot The Bruce knocked the ball away before Dreadnaut could reach it. Dreadnaut reversed to block Robot The Bruce, and weakly knocked the ball towards the goal. Wedgehog got close to the ball, but Cruella rammed it into the fence. In doing so, the ball rolled to Wedgehog's front, but Robot The Bruce pushed Wedgehog into Dead Metal before it could score, knocking the ball away. The ball went in front of Dreadnaut, but Dreadnaut was too slow to reach it, as Cruella pushed it back. Robot The Bruce pushed the ball into the fence, and it rolled off. Dreadnaut had a chance to score, but Robot The Bruce got to the ball first and pushed it into the net to score the first goal.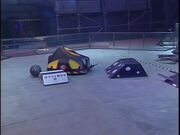 When the Trial restarted, Dreadnaut was nearest the ball, but as it reversed towards the ball, W.Y.S.I.W.Y.G. charged in reverse into it, stopping it, then pushed the ball away. Dreadnaut moved forwards a little, before stopping. It moved forwards again, then reversed into the ball. Dreadnaut stopped moving, and actually blocked the others as they gained possession of the ball.
"Get out of the way Dreadnaut! What is Dreadnaut doing? I think Dreadnaut's a bit of a goal-hanger here."
— Jonathan Pearce
Wedgehog went through next soon after, being the robot with the last touch before Dead Metal scored an own goal.
The game restarted again, but Dreadnaut did not start at all.
"No, I'm not too sure if Dreadnaut is goal-hanging, I think he's suffering from a reoccurance of that old injury. Can't move, hardly."
— Jonathan Pearce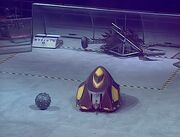 Dead Metal grabbed Dreadnaut and pulled it from the centre, out of the other two robots way. Cruella got to the ball first, and after driving into Dead Metal, W.Y.S.I.W.Y.G. charged into a fence and stopped moving. Cruella scored the third goal. With both Dreadnaut and W.Y.S.I.W.Y.G. immobile, Dreadnaut went through because it had more possession than W.Y.S.I.W.Y.G..
Ken Feltwell: "After we went up in smoke we really didn't think we'd even get into that round."
Dave Vowles: "We just didn't get the battery charged in time."
Ken Feltwell: "It just went dead in there, it was just the fact that the others actually hit the ball into us that gave us the touches, so we feel a bit of a cheat really!"
— Post-battle interview with Philippa Forrester
Dreadnaut had to undergo more repairs to get it working for the Arena stage, but the team were able to get it running again.
"...we think we've finally cracked it. ... We'll be lucky to survive five minutes with anybody anyway."
— Ken Feltwell to Philippa Forrester before the Arena stage
In the Heat semi-final, Dreadnaut was put up against Wedgehog. Dreadnaut had a huge weight advantage of almost 70kg, and would be assured victory if its motors remained cool.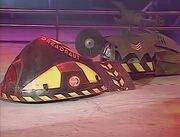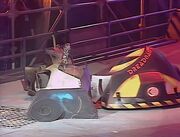 "Dreadnaut, the big slug, against Wedgehog, the piece of cheese."
— Jonathan Pearce at the start of the battle
Both robots drove forward, and Dreadnaut dodged Wedgehog's axe. Dreadnaut tried pushing Wedgehog, but Wedgehog turned away.
"...the Dreadnaut boys look worried, they know they have to get this over and done with very early because the motor may not last."
— Jonathan Pearce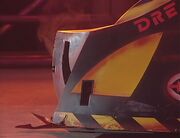 The two were briefly stuck side-on at each other, but Wedgehog got away. Wedgehog drove close to Sergeant Bash's CPZ, and Dreadnaut pushed it into the House Robot. Sergeant Bash attacked Wedgehog with the saw, but his saw snapped off just as it did against Killertron. Meanwhile, Dreadnaut had got its forks stuck under its opponent, and attempted to finish the match by pushing it onto a grille. It succeeded, but could not release it. Shunt pushed Dreadnaut away, dragging Wedgehog to safety in the process. After intervention from Matilda, Wedgehog pulled free, but Dreadnaut had broken down, notable from smoke billowing out of it.
"...and surely this is Wedgehog's semi-final now! He's smoking!"
— Jonathan Pearce
Cease was called and Dreadnaut, who had broken down for a third time, was finally eliminated.
Ken Feltwell: "After we shot it in the first round, we tried to do our best to repair it, but obviously it just wasn't man enough for the job."
Dave Vowles: "We learned a lot, for next time. We'll be back"
— Post-battle interview (a deleted scene, included in The First Great War video)[5]
"What will Dreadnaut have learned from the First Wars?"
— Jonathan Pearce at the start of Dreadnaut's Gauntlet run
An upgraded Dreadnaut returned for the Second Wars, again competing in Heat C. It started its Gauntlet run by charging into the wall, but only managed to dislodge one brick, but after a further strike it managed to knock enough bricks down to get through. However, one of the bricks that had been knocked down blocked Dreadnaut's way, with Dreadnaut getting stuck on it as it tried to get past it. Dreadnaut reversed as Shunt came in.
"What are they doing here? Into reverse ... now, if they're not going to take on that wall, they are surely, no! To the left ... well they're going the other way now!"
— Jonathan Pearce questions Dreadnaut's tactics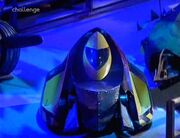 Dreadnaut was able to quickly drive around the House Robot and go for the left route, but drove into a pyramid. Dreadnaut reversed for another run, but was lifted up by a spike. The spike lowered, and Dreadnaut sped down the route, dodging Shunt before it could catch up with it and driving past Sergeant Bash. However, Matilda then blocked Dreadnaut, and Sergeant Bash came down the course to help block Dreadnaut. After reversing for a charge, Dreadnaut managed to get past both House Robots and reach the end zone.
"It seemed like too much hard work to get through the brick wall so we thought we'd just try and go for the gap!"
— Ken Feltwell explains his change of plan to Craig Charles
Dreadnaut was through, and finished first on the leaderboard have completed the Gauntlet in the fastest time.
Dreadnaut then went into the Trial, which was the Joust.
"There's the heraldic shield on the edge of Dreadnaut, getting into the spirit of things."
— Jonathan Pearce notes the addition to Dreadnaut's front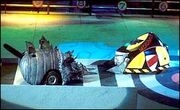 Dreadnaut quickly drove up the ramp and got to the centre before Matilda. Just before the two robots came together, Dreadnaut got side-on against the small wall on Matilda's ramp leading to the centre, so when Matilda pushed against it, she could not push it back. Matilda reversed for another charge, and this time got under Dreadnaut, pushed it off the wall and pushed it off the centre platform.
"The wheels slip and slide away, but they've done enough! They're through!"
— Jonathan Pearce
Dreadnaut had managed 5.4m, placing it third, ensuring it was through to the Arena.
There, it faced newcomers Oblivion.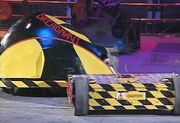 However, Dreadnaut failed to at the start of the battl, with Oblivion getting underneath it.
"Oblivion is the lighter and the faster, Dreadnaut has those fearsome forks, and no mobility it would seem! There's something wrong here with Dreadnaut."
— Jonathan Pearce
Dreadnaut was on top of an arena spike, which lifted it up and down, but eventually rolled off it. Dreadnaut still did not move, and the House Robots immediately attacked Dreadnaut as soon as its immobility became known.
"It must've been the spike that stopped them ... no, they're not moving! Dreadnaut? Deadnaut!"
— Jonathan Pearce after Dreadnaut is shifted from the spike it was stuck on.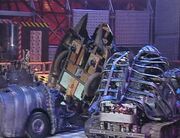 Dreadnaut was pushed onto the flame pit by Shunt, before being pulled off by Matilda. Sir Killalot lifted Dreadnaut up, as Shunt axed it, and held Dreadnaut by its front in its claw. this caused the front to be ripped off. Sir Killalot then cut the bar for its lifting forks in half with his jaws, then lifted Dreadnaut over.
Ken Feltwell: "We just don't know what happened there, we had no control at all!"
Craig Charles: "Well they certainly moved in for the kill thought, didn't they?"
Dave Vowles: "No mercy at all! And they [the Oblivion team] were smiling! They were smiling!"
— Post-battle interview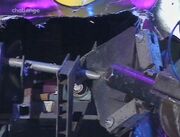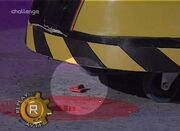 After the battle, the team found that the safety key had been knocked out of the robot, having found it on the arena floor, and that was what caused Dreadnaut not to move.
"...as the case was put back on, the key was knocked out!"
— Ken Feltwell to Philippa Forrester
"Dreadnaut team, no, Dreadnaut... well, team and helper, because Ken, you may remember, is on holiday in Florida, so we're not saying hello to him, because we're very annoyed with him for lying by the pool. It's outrageous!"
— Philippa Forrester introduces the Dreadnaught team at the start of the Heat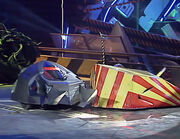 Dreadnaut appeared in the final heat of the third series, and was drawn against newcomers Psychokiller in the first round. Dreadnaut started by ramming into the front of Psychokiller as its opponent charged at it. Psychokiller was knocked up on impact, but landed by Dreadnaught's side, and Dreadnaught turned away for another attack. Psychokiller drove away from Dreadnaught as it turned around, and drove around it as it tried chasing it. The two competitors drove away from each other, driving to opposite sides of the arena. Dreadnaught charged at Psychokiller, but failed to get under it with the forks, and Psychokiller span away. Dreadnaught also started spinning as it tried to attack. Dreadnaught tried to push Psychokiller onto the flame pit, but Psychokiller turned away. Psychokiller span around, driving over the flame pit, then drove up the arena. However, it drove straight into Sir Killalot's CPZ, who cut off its axe.
"They've got no weapon now! Look at it - what a sorry looking thing it is, sticking out. It looks like...an earbud, to clean your ears out, let alone take Dreadnaut on! Faye likes it!"
— Jonathan Pearce
Dreadnaught drove up the arena after it as Psychokiller reversed away from Sir Killalot, but struggled to line up an attack, swinging one way and another. Psychokiller pushed back against it, and Dreadnaught drove away. Psychokiller followed it, getting under Dreadnaught with the wedge, but Dreadnaught quickly reversed off the wedge. Psychokiller appeared to stop moving, and Dreadnaught pushed it onto the flame pit. Shunt axed Psychokiller and pushed it off the flame pit, but Psychokiller was still not moving. After a push from Dreadnaught, which got its forks under Psychokiller, Psychokiller started moving again, racing forwards, but drove into Dead Metal, and was on top of an arena spike. which rocked it up and down. Dreadnaught rammed it a couple of times, and it became clear that Psychokiller had broken down.
"The Dreadnaught team know they've got victory between their ... little pincer-ram, spiky things at the front!"
— Jonathan Pearce
The House Robots attacked Psychokiller, and Dreadnaught was through.
"Well, Ken, it's your own fault you're missing it! There you are, lying in Florida, in the sun by the pool, and missing all this excitement, because your team are through!"
— Philippa Forrester's message to Ken Feltwell after the battle
In the second round, it was drawn against another newcomer, Rattus Rattus.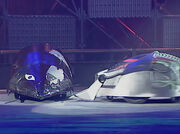 Dreadnaught crossed the arena, but Rattus Rattus did not start at all. Dreadnaught slammed into it a few times, but Rattus Rattus still did not move.
"Rattus Rattus is the heavier, I think Dreadnaught probably is the speedier, and you wonder what damage Rattus Rattus took in its last battle against S.M.I.D.S.Y. ... obviously has a problem here, right from the start!"
— Jonathan Pearce
Dreadnaught continued to drive around Rattus Rattus, ramming it and pushing it into the wall, and before long the House Robots came out to attack the immobile Rattus Rattus.
"Hard cheese for the rat, and Dreadnaught's really won here by more than a whisker."
— Jonathan Pearce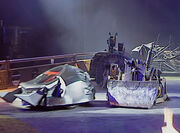 However, whilst the House Robots were attacking Rattus Rattus, Dreadnaught rammed into the rear of Matilda. Shunt came in and chased Dreadnaught into the corner.
"Don't get into trouble now, whatever you do David! Stay away from Shunt and co.!"
— Jonathan Pearce
Dreadnaught drove out of the CPZ, driving up to the top of the arena as Cease was called.
Philippa Forrester: "That was easy really for you!"
Dave Vowles: "Another easy round, yes!"
Philippa Forrester: "Made very easy because the rat died."
Dave Vowles: "Well that's what happened to us last year, last wars, we died, so I know they feel."
Philippa Forrester: "Oh, so you feel avenged as well?"
Dave Vowles: "A little bit avenged, yes!"
— Post-battle interview
Through to the Heat Final for the first time, Dreadnaught faced another newcomer, Trident, for a place in the Semi-Finals.
Craig Charles: "How are you feeling then?"
Dave Vowles: "Quite confident, we've come a lot further than the last war."
— Pre-battle interview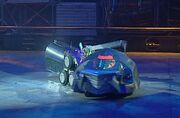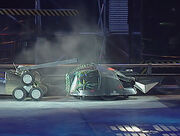 The two robots slowly moved towards each other. As they clashed together, Dreadnaught tried to turn away, but Trident axed its top a couple of times. Trident continued to follow Dreadnaught, before Dreadnaught turned around, knocking past Trident with its forks. Dreadnaught drove up the arena, and turned to face Trident, waiting for its opponent to come after it. Trident drove at Dreadnaught, but drove at the wrong angle, so missed its axe blows. Dreadnaught reversed, then slowly moved forwards. Trident axed Dreadnaught again, this time denting it. After a few more axe blows, Trident pushed Dreadnaught a little. Dreadnaught moved away, but was moving slower and slower, and drove into the arena wall, where it stopped moving. Trident pushed it against a saw, and Trident axed it. Dead Metal came out of its CPZ to ram Dreadnaught, but Trident had stopped moving as well. Despite the fact that Dreadnaught had become immobile first, the House Robots started attacking Trident.
"Dreadnaught gets nought! It was obviously disabled long before Trident!"
— Craig Charles
"Will it go further than the last wars when Trident beat this fibreglass-protected machine, with its wheelchair motors, zero turning circle, but dangerously high ground clearance?"
— Jonathan Pearce
Dreadnaut XP-1, the number 29th seed, participated in Heat G. Its first round melee pitted it against newcomers Warhog and returning team Darke Destroyer 2, another Heat Finalist from the last wars.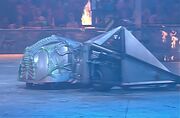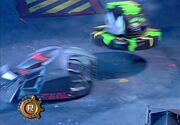 Warhog spun its weapon up to speed as Darke Destroyer 2 slammed into Dreadnaut XP-1. Warhog slowly moved towards Dreadnaut XP-1, slamming into its front. Warhog moved away, and Darke Destroyer 2 pushed Dreadnaut XP-1 around the arena in circles. Its used its wagglers on Dreadnaut XP-1's side, but this had no effect. Warhog then moved in again and hit Dreadnaut XP-1 for a second time, ripping chip of the shell away.
"Look at that! Shattering off the side of Dreadnaut XP-1!"
— Jonathan Pearce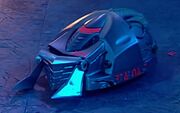 Darke Destroyer 2 moved towards Warhog and both machines were knocked away by the power of the spinner, with Warhog bouncing into Dreadnaut XP-1, then being knocked away. Warhog had stopped moving, but was still spinning. Dreadnaut XP-1 approached Warhog, with the impact spinning Dreadnaut XP-1 away and ripping its front claws loose, as well as throwing Warhog high into the air.
"Oh, crash! Like dodgems in a fairground, off Dreadnaut!"
— Jonathan Pearce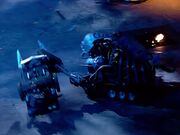 Darke Destroyer 2 then moved in to shove Dreadnaut XP-1 while Warhog sat spinning, but was still immobile, and the House Robots moved in. Dreadnaut XP-1 broke down after some pushing by Dark Destroyer 2. As Shunt tried to push Warhog again, Sir Killalot picked up Dreadnaut XP-1 and spun it around, causing its shell to fall off.
"What's Killalot doing, he's taken on Dreadnaut! Now that is bang out of order, Killalot! Dreadnaut was okay, still in the fight. The House Robot should not have taken him on, and they've deshelled the Dreadnaut!"
— Jonathan Pearce as Sir Killalot attacks the victorious Dreadnaut
Darke Destroyer 2 poked Dreadnaut XP-1 one last time before cease was called and Warhog was eliminated.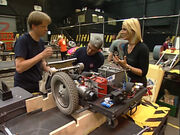 Dreadnaut XP-1 was through, but a lot of repairs were needed to get it to work for the second round.
Julia Reed: "Dreadnaut, you're still working! You've got seconds to go, there's an audience screaming for you in there, what are you doing boys?"
Ken Feltwell: "Getting it together!"
Dave Vowles: "Panicking!"
— Before round 2
The team were able to get the robot working for the fight.
"What damage has been caused by Warhog, and by Killalot, I must say?"
— Jonathan Pearce at the start of the battle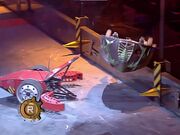 However, at the start of the battle, Dreadnaut XP-1 struggled to move, rocking backwards and forwards on one wheel. Thermidor 2 got under Dreadnaut XP-1 and flicked it up a little. It then pushed it to the arena wall and flipped it against the wall, throwing it over with one flip.
"Like a beetle thrown on its back!"
— Jonathan Pearce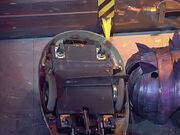 Dreadnaut XP-1 had no srimech, so was immobile. The House Robots moved in, with Matilda easily slicing through Dreadnaut XP-1's fibreglass shell with the chainsaw, also cutting through one of the tires and the baseplate. Dead Metal dragged it to the flipper, which threw it across the arena.
"Like a cannonball fired across the arena floor there!"
— Jonathan Pearce on Dreadnaut XP-1 being flipped by the arena flipper
Dreadnaut XP-1 was now righted and tried to move away, but the House Robots continued to attack it, with Shunt firing its axe into the body and Sir Killalot snipping the front and dragging it to the flame pit. Dead Metal grabbed it, Shunt axed it, and Sir Killalot then dislodged the body shell by pinching the front.
"How much work has gone into Dreadnaut, for naught? It's just being bent and buckled!"
— Jonathan Pearce
Dead Metal finally pushed it into the pit, and the 29th Seed was eliminated.
Craig Charles: "Well, are going to come back?"
Dave Vowles: "Hopefully!"
Craig Charles: "I think you're going to have to rebuild that robot though, aren't you?"
Dave Vowles: "I think we'll start again. We might have to!"
— Post-battle interview
DREADNAUT - RESULTS
Series 1
The First Wars - UK Championship
Heat, Arena Semi-Final
Heat C, Gauntlet
Completed (2nd)
Qualified
Heat C, Trial (Football)
Most touches (4th)
Qualified
Heat C, Semi-Final
vs. Wedgehog
Lost
Series 2
The Second Wars - UK Championship
Heat, Arena Semi-Final
Heat C, Gauntlet
Completed (1st)
Qualified
Heat C, Trial (Joust)
5.4m (3rd)
Qualified
Heat C, Semi-Final
vs. Oblivion
Lost
Series 3
The Third Wars - UK Championship
Heat Final
Heat P, Round 1
vs. Psychokiller
Won
Heat P, Round 2
vs. Rattus Rattus
Won
Heat P, Final
vs. Trident
Lost
Wins/Losses
Edit
Series Record
Edit
Outside Robot Wars
Edit
Dreadnaut XP-1 was brought by Team Cookie Monsters in 2005, albeit without any components, and the robot remained inactive,
"Dreadnaut XP1 came in to our possession in 2005 when Simon bought him for the princely sum of £31.00! What we got for our money was the body, base frame, front shield and forks, no internal workings. Simon's original intention was to fix Dreadnaut up and take him out on the road again, when we thought about it however, we decided that maybe it would be better to keep him as a piece of Robot Wars history so he didn't take any more damage. "
— Team Cookie Monsters website
As of 2016, Dreadnaut was loaned to the Derby Silk Mill - Museum of Making, where it resides as a static display within the museum, and at special events run by the museum such as their Robot Triathlon.
Dreadnaut is one of 23 robots to have completed The Gauntlet, and, along with Mortis, Nemesis and Roadblock, is one of four robots to have completed it twice.
Dreadnaut is one of the most infamous robots in terms of reliability.

From five breakdowns, three of them were in Series 1, making it the only machine other than The Blob to break down in every single round of a series it fought in.
Their loss in Series 2 was caused by the team knocking out the safety key accidentally before the battle, meaning that its four loss record only recorded one knock-out (against Thermidor 2).

Footage of the team constructing Dreadnaut was included in the Making of Robot Wars special, along with other roboteers video diaries.
References
Edit
External Links
Edit