"Came back in lots of bits after getting pitted and Refbot driving into the pit."
— Tony Booth to Helloher on the state of robot after its only battle
Dragon was a featherweight robot that competed in the featherweight competition in Extreme Series 2 of Robot Wars. It was a black beveled wedge shaped robot with a flywheel on top. It didn't last long in its only battle, being swiftly pitted by Cutlet.
Robot History
Edit
Extreme 2
Edit
Dragon fought Flybot, Gladiator, Cutlet, Kitty and Micro-Mute in the heats of the competition. Dragon didn't last long, beause it was targeted by Cutlet and dragged around the arena. Soon it was pitted by Team Lambsy's machine, who then joined Dragon and the already-pitted Kitty and Flybot, as did the other competitors one by one and even Refbot as he accidentally reversed both himself and Gladiator.
Wins/Losses
Edit
Outside Robot Wars
Edit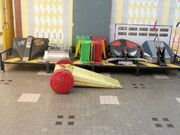 After Robot Wars ended, Tony Booth continued to build featherweights and heavyweights. Whilst Robot Wars was still on TV and since Robot Wars ended, Team Dragon have built or been given:
Featherweights: the teams first featherweight (not Dragon, a axe wielding bot), Dragon 1, Dragon 2, Dragon 3, Dragon 4, Dragon 5, Dragon 5.1, Dragon 5.2, Dragon 6, Dragon 6.1, DragonStrike V1, DragonStrike V4, Dragonmaster 1, Dragonmaster 2, Tiamat, Tiamat V.2, Kishar, Dragon Claw, Baramot and Baramot V2.
Heavyweights: Jormungandr, Fire & Ice, Carnage and Dragonfly.