Disruptor
Talk

2
1,514pages on
this wiki
Disruptor



Disruptor

Participation Information
UK Series
2
Team Information
Team Members
Anthony Lockwood
Masayo Kobayashi
Wayne Martin
Other Entries
Excaliber
(Series 3)
Robot Statistics
Weight
82.1kg
Dimensions
1.35m x 0.78m x 0.45m
Top Speed
6mph
Power
1 x 38A battery
Weapons
9" circular saw mounted on 180˚ movable arm

Robot statistics correct as of its most recent appearance on the show
Disruptor was a competitor robot in Series 2 of Robot Wars. It was four-wheel driven, and featured a large circular saw on an arm, similar to that of House Robot Dead Metal at the time, as its primary weapon, which was powered by a 25CC petrol engine. It made the heat final against Panic Attack in Series 2, but lost as Panic Attack was too low down for its saw to do any damage, and was unable to resist as Kim Davis' robot was able to wedge beneath it and pit it. Captain Anthony Lockwood once built a hang glider out of scaffolding and tarpaulin and made his sister test it.
Unlike most robots, Disruptor was not fitted with a safety key, which meant it was active all of the time, so if something went wrong, serious injury to anyone working on the robot could occur. The rules were later changed so that all robots required a safety key because of this potential risk.
Robot History
Edit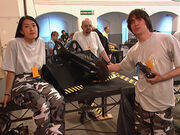 Disruptor moved towards the ramp, but Dead Metal nudged it on an angle as Disruptor got delayed on the spikes. Killalot came up behind Disruptor, and pushed it up the ramp and tipped it over. However, The Parthian Shot never made it in, so Disruptor progressed. After holding on in the Sumo for 30 seconds of absolute stalemate, Disruptor was drawn against Adam Clark's Corporal Punishment. Corporal Punishment rammed into Disruptor's circular saw, which buckled the prongs and hampered Corporal Punishment's movements. After Corporal Punishment reversed into the House Robots, it was caught there for too long to make any impact on the rest of the battle, and was eliminated on a judges decision, putting Disruptor through to a now all-Welsh heat final. Here, Disruptor met Panic Attack, and its moving arm was unable to go low enough to damage the future champions. It was helpless to resist as Panic Attack pushed it straight into the pit.
Wins/Losses
Edit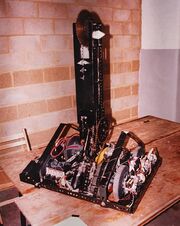 Series Record
Edit
Series 1: Did not enter
Series 2: Heat Final
Series 3: Entered with Excaliber
Series 4-7: Did not enter