"If they have time to spin that disc up in the arena, this could be a very destructive robot indeed!"
— Jonathan Pearce in Series 8
DisConstructor was a heavyweight robot which competed in the seventh and eighth series of Robot Wars. Despite having a potent horizontal flywheel, it failed to progress beyond the first round in either of its appearances, ending up in the pit in both series it competed in.
The team had previously failed to qualify for Series 5 with Demolition Doris, and for Series 9 with a new design.
"It has a powerful spinning disc made from both stainless steel and titanium. The disc has been reinforced with teeth to tear apart its opponent, and weighs 20kg. It runs at 2500rpm, making it one of the most powerful spinners in the competition (alongside Supernova – Episode Three)."
— BBC website on DisConstructor
DisConstructor was a grey invertible robot with a downward sloping spinning disc. The 20kg disc could spin at about 2500RPM, and was made from titanium with stainless steel teeth and powered by LYNCH motors. Although DisConstructor could run inverted, it had a high ground clearance and lacked driving experience, which was clearly shown in its battles in the main competition. The robot's armour was made of 6mm of 5 Grade titanium.
Qualification
Edit
DisConstructor fought a very impressive qualifier for Series 7 against Cayenne. DisConstructor hit Cayenne and destroyed its message board, before its disc caused the jaws to bend into the frame of Cayenne. Cease was called, and DisConstructor advanced through to Series 7. Due to the severity of DisConstructor's damage, Cayenne had to decline a discretionary place in the series.
Robot History
Edit
"New boys, could prove "disconcerting" for some"
— Jonathan Pearce
DisConstructor participated in the penultimate heat of the Seventh Wars, and was placed up against fellow newcomers Xenomorph, Dutch entrants Hammerhead 2 and Robot Wars veterans Iron-Awe 2.1 in the first round of the heat.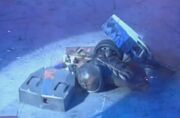 DisConstructor went on the charge immediately, but missed Hammerhead 2 and went off into the distance before turning around and inadvertently causing damage to Refbot. DisConstructor then caught Iron-Awe 2.1 twice and reversed into it, but caused it minimal trouble. DisConstructor then clattered into Xenomorph twice, sending a small amount of sparks flying. After this, DisConstructor hung around Sir Killalot, as it slipped into his claws before reversing away and slamming into the arena wall, accidentally activating the pit release button in the process. As the pit siren sounded, DisConstructor slid into Sir Killalot's CPZ, before moving away from danger once more. On its retreat this time, though, DisConstructor skidded along the arena floor and drove itself down into the pit.
"Oh, into the pit goes DisConstructor! No danger whatsoever - oh, what on earth happened, Mike Phillipson!"
— Jonathan Pearce
As a result of its erroneous piece of driving, DisConstructor was eliminated, and after a lengthy battle and a judges' decision for the other three machines, Xenomorph joined it in exiting the competition.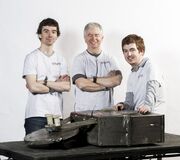 DisConstructor appeared in Episode 2, filling in for Overdozer after it withdrew and appeared in the following episode. It was drawn against newcomer Shockwave, veterans Thor, and the experienced Dutch robot Tough as Nails.
DisConstructor immediately backed away to try to get its weapon up to speed, with Tough as Nails coming in to keep the speed of DisConstructor's weapon down, as it crashed into it and sent sparks flying. DisConstructor then moved away, but Tough as Nails was in hot pursuit, and another strong drive from the Dutch machine recoiled DisConstructor in towards Shunt. The House Robot raised his front scoop as DisConstructor edged over the floor flipper, where DisConstructor was sent airborne.
"Oh, look at the power of the flipper! Lifting 103 kilos of DisConstructor as if it was a feather!"
— Jonathan Pearce
Shockwave then kept the pressure on the jaded DisConstructor, as it drove it against the arena side wall, with DisConstructor rebounding away, towards the pit. Shockwave then turned and slipped underneath DisConstructor once more, before sliding down into the pit of oblivion.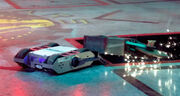 "And they must've been affected (by the floor flipper), because they're gone, they're out - almost straight away! The team from Redhill in Surrey gone!"
— Jonathan Pearce
Shockwave's piece of driving meant that DisConstructor had been pitted in both of its appearances on Robot Wars, and was eliminated from the competition, with Tough as Nails joining it in the pit soon after.
Wins/Losses
Edit
Series Record
Edit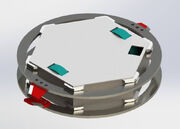 Outside Robot Wars
Edit
During Robot Wars' hiatus, DisConstructor was retired. It briefly came out of retirement for the 2006 UK Championships, falling in the group stages to Merlin and Hammerhead, as its mobility was limited. After this, DisConstructor could not compete at live events due to the ban on spinners.
Laurie Phillipson, with team mates Jordan Gear and Albert Phillipson, has since built five antweights, Little Doris, THRUST, ANTi Matter, TiNY and Avenger.
DisConstructor was one of only three robots in Series 8 to not use modern Lithium batteries inside the machine, the others being The General and Sweeney Todd, both of which used lead acid batteries.
External Links
Edit
Ad blocker interference detected!
Wikia is a free-to-use site that makes money from advertising. We have a modified experience for viewers using ad blockers

Wikia is not accessible if you've made further modifications. Remove the custom ad blocker rule(s) and the page will load as expected.