Direct Action
Talk

0
1,514pages on
this wiki
Direct Action



Direct Action

Participation Information
UK Series
Extreme 2
Team Information
Team Members
Ian Shortland
Jason Bromhead
Frances Tomlin

Robot Statistics
Weight
97kg
Dimensions
0.42m x 1.07m x 0.60m
Power
2 x 800W Electric Motors
Weapons
Flywheel

Robot statistics correct as of its most recent appearance on the show
"Mad in England"
— The team's shirts
Direct Action was an invertible cut-off wedge-shaped robot similar in design to Killerkat but with a chess board design. It fought exclusively in the New Blood Championship of Extreme 2. It had a 3mm ground clearance and was armed with a 25kg, 850RPM flywheel with bolt-cutting blades which was doubled to 120mph since tested and armoured in 6mm nylon. The rear of the robot was undefended and, as a result, Direct Action lost in its first and only battle to Storm 2 and Revolution 2. It also fought against Dutch champions PulverizeR and Robochicken in the Series 7 qualifiers, but once again lost.
Robot History
Edit
Extreme 2
Edit
"We were impressed (and worried about) the speed that Direct Action could get its 20Kg disk up to speed. Do not be fooled, that's one serious piece of spinning metal - more than capable of making a real mess of someone."
— Storm 2 website[1]
Storm 2 and Revolution 2 were Direct Action's opponents. Storm 2 started by shoving Direct Action into Mr Psycho's CPZ, the flywheel-wielding robot narrowly avoiding the hammer of the House Robot. After escaping the CPZ, Direct Action lost the drive in one of its wheels and was left spinning in circles. Next, Revolution 2 attacked the invertable machine. Storm 2 then shoved Direct Action around the arena. This continued to happen for some time. Eventually free of the future runner-up, Direct Action activated the pit. Storm 2 shoved Direct Action towards the pit, nearly fell in itself, avoided it at the last second, and Direct Action then drove in, so Storm 2 went through along with Revolution 2.
Wins/Losses
Edit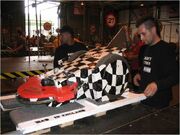 Series Record
Edit
Series 1-6: Did not enter
Series 7: Failed to qualify
References
Edit