Diabolus was a competitor robot from the Isle of Sheppey that fought exclusively in Series 7 of Robot Wars. It was eliminated in the first round after sustaining heavy damage from X-Terminator and getting flipped out of the arena by Tsunami.
Diabolus was entered by Team Demon, which also competed in Series 5 with Kliptonite.
Diabolus was an invertible, oval-shaped robot with aluminium checker-plate armour and a pair of 18-inch, 1000rpm spinning discs as its weapons. The robot was painted white and red with red 'splashes' on the top and bottom panels, and had a high top speed which made it aggressive, yet difficult to control. Team Demon also highlighted the robot's thin armour as a particular weakness, which made it very vulnerable to damage from axes and spinning weapons.
Robot History
Edit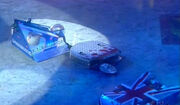 Diabolus competed in Heat F. In its first-round battle, it faced the eleventh seed X-Terminator, German Robot Wars runner-up Tsunami and fellow Isle of Sheppey co-patriot Major Tom 3. The opening seconds saw Diabolus immediately slam into the side of Major Tom 3, causing its head to fall off, before hitting Tsunami, sending sparks flying as it was flipped over. Diabolus was then deflected by X-Terminator's flywheel, before having its chassis bent and one of its discs torn out after charging into the flywheel head-on. It became immobilised and sustained more damage from X-Terminator as it was pushed and flipped towards the side wall, with its top panel being dislodged as it became stranded there.
Tsunami then threw the severely-damaged Diabolus out of the arena, where it landed on top of Major Tom 3, which had also been flipped out earlier on in the battle. Both were eliminated from the Seventh Wars as a result.
Wins/Losses
Edit
Series Record
Edit
At 36 seconds, Diabolus' Series 7 melee against Tsunami, Major Tom 3 and X-Terminator is the shortest battle in the UK Robot Wars to involve two immobilisations. However, it did not feature on the top 30 list.
Like Kliptonite, Team Demon's previous entry, Diabolus' only televised battle involved Major Tom, another robot from the Isle of Sheppey.