"No weaknesses at all"
— The Devastator team on their machine
Devastator was a competitor robot that exclusively fought in the seventh series of Robot Wars.
The team boasted that Devastator had no weaknesses and even the statboard listed their weaknesses as "classified". Despite these remarks, Devastator somewhat ironically lost its only battle after being pursued by Tornado throughout the battle.
"This is a robot without weaknesses. I think we've found a champion. We can stop the whole show everybody! ... Not really, you still gotta go in there. You STILL gotta go in there!"
— Jayne Middlemiss, not taking the team's claim seriously
Devastator had previously attempted to enter Series 6, but failed to qualfy under currently unknown circumstances.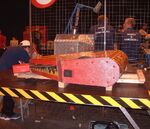 Devastator was an invertible two-wheeled box shaped robot with a rounded back, narrowing down to a point at the front. It was here that its weapon, a horizontal spinning disc, was located. It had a yellow and red striped top, and red sides.
"No weaknesses? Right: The tyres are exposed, the gaping mouth can be easily hooked...err....the weapon IS powerful, slight wedge shape, runs both ways up at 16 watts, not bad."
— Jonathan Pearce, also not taking the team's claim seriously
Robot History
Edit
Devastator made its bow in Heat E of the Seventh Wars, where it was drawn up against reigning champions Tornado, along with Ewe 2 and Sawpoint 2.
Devastator came under immediate pressure from Tornado, which drove towards it before pushing it side-on across the arena floor and into the side wall. Devastator failed to move away, which allowed Mr. Psycho to apply pressure in the CPZ that Devastator occupied. The House Robot squeezed Devastator up against the arena wall, before it managed to escape, where Tornado focused on it once more. Tornado came in with an attack with its spinning drum, which sent Devastator's front upwards. Tornado then caught Devastator side-on once more, this time ramming it into Matilda. Devastator managed to edge away from the House Robot's pink flywheel and then exchanged blows with Tornado. Tornado continued to push Devastator around, with Devastator's weapon now not moving. Devastator tried to get involved with Sawpoint 2 and Ewe 2, and attacked Sawpoint 2 with its disc which was now starting to crank up again, but it only managed to deflect itself aside, causing minimal damage to Sawpoint 2's wheel. Tornado then forced both Sawpoint 2 and Devastator into the CPZ as Ewe 2 activated the pit release button, before Mr. Psycho charged across the arena and trapped Devastator in the CPZ.
"Devastator in trouble as Mr. Psycho comes in again - get away! Caught between the two House Robots. Lack of experience in there, I think from Devastator - first time in the Robot Wars."
— Jonathan Pearce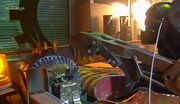 Mr. Psycho attempted to grab Devastator with his claw, but couldn't and after some more jostling, Devastator moved away from trouble. Devastator was then consistently forced back against the arena wall by Tornado as Sawpoint 2 was pitted by Ewe 2, before Ewe 2 decided to help out Tornado, with the two robots double-teaming to push Devastator towards the pit before leaving it on top of the already pitted Sawpoint 2. With Devastator unable to gain traction to move away from its suspended position, it was counted as immobile, and cease was called, with Devastator crashing out of the competition.
Wins/Losses
Edit
Series Record
Edit
Ad blocker interference detected!
Wikia is a free-to-use site that makes money from advertising. We have a modified experience for viewers using ad blockers

Wikia is not accessible if you've made further modifications. Remove the custom ad blocker rule(s) and the page will load as expected.