"Ooh it looks splendid with its fibreglass skull and the arms, the front weapon's an electric 'earthquake saw', the rear weapon's a pneumatic trident, the major motors come from windscreen wipers."
Death Warmed Up was Team Death's entry for the third series of Robot Wars. It lost its first round battle to Stealth in its heat, and did not appear for any other series.
The robot's name derives from the saying "I feel like death warmed up."
Death Warmed Up was a large and unusual box-shaped robot designed to resemble a chair, with a humanoid figure sitting on top of the robot inside the 'chair'. The humanoid consisted of a skull and arms with gardening gloves that were moulded from fiberglass, while the robot's weapons were an electric hedge trimmer described as an 'earthquake saw' at the front, and a pneumatic trident at the rear. The robot's bodywork consisted of 50% fibreglass and 50% wood. Death Warmed Up had flames painted along its bodysides, and also featured several castors along the side of the machine which served no clear purpose in its only battle, much to Jonathan Pearce's bemusement.
Robot History
Edit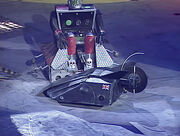 In its first round battle, Death Warmed Up faced Stealth It started the quicker robot, driving across the arena to meet Stealth and circle round it. Death Warmed Up drove away, only for Stealth to get underneath it and push it into the wall and over the Flame Pit, where Death Warmed Up was briefly axed by Shunt. Death Warmed Up began smoking as it struggled to escape the Flame Pit, and its body caught fire as Shunt pushed it away and it drove around the House Robot as he suddenly became immobilised. Stealth nudged Death Warmed Up again, and Death Warmed Up eventually lost mobility as the fire inside its chassis spread and the other House Robots gathered round. 'Cease' was called, and the smoking Death Warmed Up was eliminated.
"Oh, I'm filling up, I feel all choky, it's smoky!"
— Jonathan Pearce
DEATH WARMED UP - RESULTS
Series 3
The Third Wars - UK Championships
Heats, Round 1
Heat H, Round 1
vs. Stealth
Lost
Wins/Losses
Edit
Series Record
Edit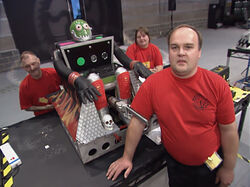 Although Team Death did not enter Series 8, Colin Scott's creation, Chimera, competed under ownership of a new team, who also entered Chimera2 into Series 9.
Ad blocker interference detected!
Wikia is a free-to-use site that makes money from advertising. We have a modified experience for viewers using ad blockers

Wikia is not accessible if you've made further modifications. Remove the custom ad blocker rule(s) and the page will load as expected.