Daisy Chopper was a robot that solely competed in the third series of Robot Wars. It lost its only battle against Griffon on a judges' decision which the team protested against, but was unable to overrule. The team previously entered Series 2 with Caliban.
Daisy Chopper was a large, two-wheeled robot armed with a top speed of 20mph and a large 20kg vertical flywheel as its weapon. The flywheel, which was incorrectly referred to as a "circular saw or hammer on the show, was driven by a motor from a hatchback car, spun at up to 1600RPM, and was the first weapon of its kind to be seen in the UK series.
Qualification
Edit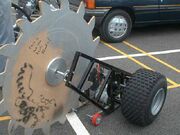 Daisy Chopper qualified for Series 3 after running the obstacle course, as per all competitors. The team attempted to enter a virtually unchanged Daisy Chopper into the Fourth Wars. However, it failed to qualify, and was subsequently updated and renamed Daisy Chopper 2.
Robot History
Edit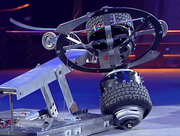 In the first round, Daisy Chopper fought against Series 1 competitors Griffon. Its spinning disc had no effect on Griffon's polycarbonate armour, as Griffon turned Daisy Chopper over several times with its lifting arm. Griffon eased Daisy Chopper into Dead Metal's CPZ, only for Daisy Chopper to steer Griffon into it and suffer grazes from Dead Metal's saw before cease was called. The battle went to a judges' decision, with the judges unanimously voting for Griffon to go through to the second round.
However, Team TFOSICA protested against the decision, compelling the judges to enact a recount. After recalculating all of the battle criteria, the judges came to a split decision which went in favour of Griffon again, eliminating Daisy Chopper from the competition.
DAISY CHOPPER - RESULTS
Series 3
The Third Wars - UK Championship
Heat, Round 1
Heat N, Round 1
vs. Griffon
Lost
Wins/Losses
Edit
Series Record
Edit
Outside Robot Wars
Edit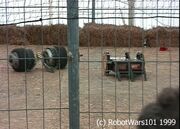 At the Sevenoaks Charity Event in 1999, Daisy Chopper appeared with a swinging knife weapon and fought Ivanhoe 2.
Daisy Chopper was the first UK series robot to feature a large vertical flywheel as a weapon. Its predecessor, Caliban, also pioneered the full-body spinner, with both weapon types becoming among the most destructive to be seen in later series.
Coincidentally, both Daisy Chopper and Griffon, the robot that beat it in Series 3, failed to qualify for Series 4, before their teams retired from Robot Wars altogether.
External Links
Edit
Ad blocker interference detected!
Wikia is a free-to-use site that makes money from advertising. We have a modified experience for viewers using ad blockers

Wikia is not accessible if you've made further modifications. Remove the custom ad blocker rule(s) and the page will load as expected.