For the robot that withdrew from Series 3, see Daisy.
For the robot dubbed the pioneer of the vertical flywheel, see Daisy Chopper.
"Newcomers to the wars, hoping to slice in a trice....which is nice"
— Jonathan Pearce
Daisy-Cutter was a Scottish robot that competed in Series 7 of Robot Wars. Its name came from the non-nuclear bomb, the daisy cutter. It managed to reach the heat-semi of its heat, but lasted less than 3 seconds against Ripper.
Sadly, team member Simon Parkes died of lymphoma cancer shortly after Daisy-Cutter's episode was filmed.
Daisy-Cutter was a black drum-shaped robot with a purple daisy placed on top. The weapon was a full body spinner with stainless steel spikes on the outside of it, which did a lot of damage when the robot spun. The drum itself was originally half a tractor wheel, and could spin up to 1200RPM.
The robot itself was compact and maneuverable, but was slow at 3mph and had no srimech, which cost it dearly in its battle against Ripper.
Robot History
Edit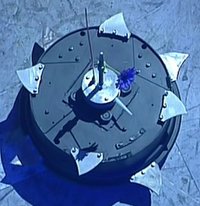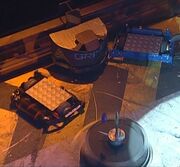 In Round 1 of The Seventh Wars, newcomers Daisy-Cutter went up against three very experienced teams; former Dutch Grand Finalists Bamm Bamm, the new robot from former Semi-finalists Team Mousetrap in Black and Blue and the second seed Firestorm 5. Daisy-Cutter spun up to full speed and battled with the Black half of the Black and Blue clusterbot, but much of its involvement in the battle was edited out in favour of showing Firestorm 5 defeat both Bamm Bamm and Blue. However, during the battle, Daisy-Cutter immobilised Black and closed in on Blue, but stopped and ceased spinning as Blue was pitted by Firestorm 5. It was unclear whether the team deliberately stopped the machine because the battle was almost over or because the robot had problems.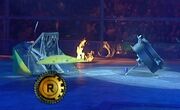 Moving through to the next round with Firestorm 5, it faced Ripper in Round 2. However, within only three seconds, Ripper flipped the Scottish robot over, immobilising Daisy-Cutter straight away. It was counted out by Refbot and Ripper moved through to the Heat Final, eliminating Daisy-Cutter from the competition. This battle marked one of the quickest immobilisations ever in Robot Wars history.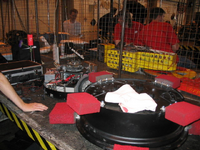 Wins/Losses
Edit
Series Record
Edit
Ad blocker interference detected!
Wikia is a free-to-use site that makes money from advertising. We have a modified experience for viewers using ad blockers

Wikia is not accessible if you've made further modifications. Remove the custom ad blocker rule(s) and the page will load as expected.