DTK was a featherweight robot that competed in the Featherweight Championship of the seventh series of Robot Wars. It was built and entered by Team Dantomkia, who also entered Series 6, 7 and Extreme 2 with the heavyweight Dantomkia, and won the Featherweight Championship outright in its first and only attempt.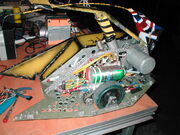 DTK was essentially a miniature version of Dantomkia, sporting the same design, yellow and black paint scheme, and a pneumatic flipper which the team claimed was capable of lifting 75kg.
Robot History
Edit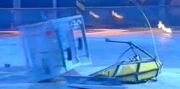 DTK was one of the more promising robots in the heat, flipping the walker Mammoth on its side. Meanwhile, both Cutlet and Staglet had been eliminated, and Alienator was seemingly immobile. DTK then went to flip Typhoon Cadet on its side, leaving the Air Force Cadets helpless. With Mammoth smashed in the drop zone, Alienator suddenly came back to life, and DTK pushed it around until time expired, progressing to the Final with Bernard.
In the final, DTK flipped Rampage 2 around on its side, before pitting Bernard. It then pitted Prince of Awe, which left only DTK and Whipper alive at the end, because Rip had pitted itself. Due to its aggression, DTK was awarded the win and became the new Featherweight Champion.
DTK - RESULTS
Series 7
Special Events
Featherweight Championship, Champion
Round 1
vs. Alienator, Bernard, Cutlet, Mammoth, Staglet, Typhoon Cadet
Qualified
Final
vs. Bernard, Prince of Awe, Rampage 2, Rip, Whipper
Won
Wins/Losses
Edit
Series Record
Edit
Although Dantomkia appeared in Series 8, it was not under ownership of Team Dantomkia, builders of DTK
Ad blocker interference detected!
Wikia is a free-to-use site that makes money from advertising. We have a modified experience for viewers using ad blockers

Wikia is not accessible if you've made further modifications. Remove the custom ad blocker rule(s) and the page will load as expected.