"Everyone's in for the chop when they come across Crippler."
— Philippa Forrester
Crippler was a competitor robot in Series 3 of Robot Wars where it lost its only fight to All Torque in Round 1. In the next series, the team entered with the equally unsuccessful The Predator.
Crippler was a steel robot figure designed to look like a samurai with an overhead "executioner's" axe, similar to Arnold A. Terminegger. As backup weapons, it featured a rear ramp and a scoop on the front. Crippler ran on tracks that were fashioned from an old conveyor belt and industrial chains.
Robot History
Edit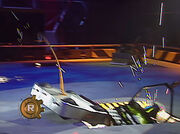 "The excecutioner's axe is razor sharp, but are Crippler's reactions?"
— Jonathan Pearce
Crippler faced All Torque in Round One, but was hit at the start, before being pushed into the arena wall. Crippler slowly brought down its axe down on All Torque, but caused no damage. Crippler was outclassed in power, and was pushed around before a great shove from All Torque ended with Crippler in the pit. The bout lasted a mere 29 seconds.
CRIPPLER - RESULTS
Series 3
The Third Wars - UK Championship
Heat, Round 1
Heat N, Round 1
vs. All Torque
Lost
Wins/Losses
Edit
Series Record
Edit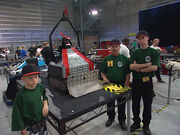 Ad blocker interference detected!
Wikia is a free-to-use site that makes money from advertising. We have a modified experience for viewers using ad blockers

Wikia is not accessible if you've made further modifications. Remove the custom ad blocker rule(s) and the page will load as expected.