For the team that built Lambsy and Ewe 2, see Team Coyote.
"With Coyote, we're not just here to destroy, we're here to scare!"
— Rachel Gibson during Coyote's Series 9 VT segment
Coyote was a heavyweight robot which competed in Series 9 and 10 of Robot Wars. It was built by Jamie McHarg, previously a member of PP3D Robotics. In its first appearance on the show, it qualified from its Group Battle but was unable to win any of its Head-to-Head battles. Coyote is named after the small North American canid, and in combination with its minibot Roadrunner, references Looney Tunes.
"Coyote is a mean, menacing dog from hell."
— Jamie McHarg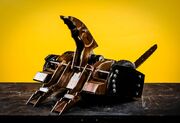 Coyote was driven by two wheels with large tyres. At the front, it was equipped with an overhead clamp with orange LED 'eyes', which works in conjunction with two lifting jaws, flush to the ground. This large weapon took up half of the robot's entire weight.
"The front jaws can move independently of each other, allowing Coyote to achieve a large bite span. The jaws are driven by electric actuators rated to roughly 750-1000kg, though with leverage ratios and mechanical disadvantage, this is less at the jaws. The front weapon assembly is constructed mostly out of 10mm Hardox, and itself weighs around 50kg!"
— Coyote Facebook Page
At the back of the robot was a chainsaw, making Coyote the first UK competitor to use the weaponry since Series 4. This weapon was driven by a Scorpion 4025-1100kV electric brushless motor running at 22.2V on a 9:1 ratio, giving the chainsaw a top speed of 3000rpm. Like Matilda, Coyote's chainsaw tail could also move up and down. Coyote's back panel was also inspired by Dead Metal.
"The chainsaw tail may seem token, but there is method in the madness. While an ineffective weapon from the original Series 2 onwards, now that more robots feature HDPE and other plastics, a chainsaw actually stands a chance of doing some damage, albeit minor."
— Coyote Facebook page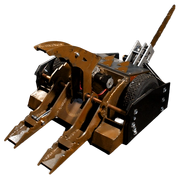 Coyote's chassis was constructed from Team Danby's past middleweight Tanto Jr, and also reused some components from the same machine. A new chassis was built for Coyote in Series 10, following the destruction of the previous version at the hands of Carbide. The new Coyote heavily used pipework for its outer frame, consisting of 22mm copper pipe and 20mm steel bars.
"Tanto Jr, an old middleweight robot was put up for sale by Jamie's friend and Scot-Bots cohort, Tony. As it already had a working heavyweight-grade drive system, we bought it to help us get our first foot off the ground in terms of building a robot for Robot Wars!"
— Coyote Facebook page
In Series 10, Coyote was also accompanied by a minibot, Roadrunner, a birdlike sit-and-spin thwackbot, designed purely to serve as a distraction while the main body of Coyote aims to grab opponents.
Qualification
Edit
Coyote qualified outright for Series 9 through open applications. As Series 10 reduced the number of competitors from 40 to 30, Team Coyote narrowly missed out on the initial selection when the upgraded Coyote applied, but was chosen as one of five reserves to attend filming. When it was declared that Deadlock would not be finished in time for its Group Battle, Coyote filled its place, becoming the third reserve and final robot to join the cast of Series 10.
Robot History
Edit
Coyote competed in Heat 5, where it faced newcomers Rusty and Ms Nightshade, along with the reigning champion Apollo in its first battle.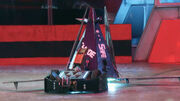 Coyote immediately made its way over to Ms Nightshade and tried in vain to push it backwards, before Apollo came in and hurled Ms Nightshade skyward, with it landing on top of Coyote. Coyote was then pursued by Apollo, which only managed to flick Coyote up slightly.
"Apollo on the drive - this is to end the Coyote bark."
— Jonathan Pearce as Coyote comes under pressure from Apollo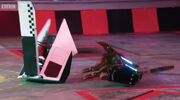 After nudging Rusty, Coyote was once again in the sight of Apollo, which rolled it through the air and into the CPZ with a flip. After this, Coyote remained in the CPZ for a period, capable of only spinning in circles. Coyote was thrown once more before Rusty was declared immobile, which confirmed Coyote's progress to the Head-to-Heads with Apollo.
Angela Scanlon: "Coyote through to the Head-to-Heads!"
Team Coyote in unison: "Phew!"
Angela Scanlon: "That is the reaction I think that I would've gone with, because it wasn't spectacular."
Jamie McHarg: "It wasn't, no. There's a few things to improve on and work on, but it's just a massive relief to get through that."
— Reaction as Coyote qualifies from its Group Battle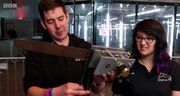 Before Coyote's first Head-to-Head battle against Crackers 'n' Smash, the team made the decision to remove their chainsaw for future fights due to damage the weapon sustained in its Group Battle.
"Chainsaw's a bit of a write off at the moment. Sadly, it's quite bent and quite broken - so we'll sacrifice that."
— Jamie McHarg
Coyote moved to its left to clamp down onto Smash and drove it into the arena side gate, before turning and moving it into the claws of Dead Metal. After taking damage from the House Robot, Smash came in with a ram on Coyote and attempted to force it into Dead Metal, although Coyote spun away and Smash was caught once again. Coyote then decided to activate the Arena Tyre, which called Dead Metal into the action, and Smash was placed onto the Flame Pit. Smash then moved away and drove over the top of its teammate, Crackers, which finally got involved and slipped underneath the side of Coyote. Smash took its turn at pressing the Arena Tyre, which signalled Rogue House Robot mode again. This time, it was the turn of Matilda to attack, and Coyote was forced to weather a hit from the House Robot's flywheel on its jaws.
"And here comes Matilda with a flywheel tail to have a go at Coyote. Can they withstand this sort of punishment?"
— Jonathan Pearce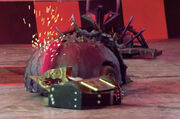 After this, Coyote struggled for movement on its right-hand side, and a flurry of bumps and rams from Crackers 'n' Smash left Coyote motionless in the CPZ. Suddenly, Smash drove itself over the Flame Pit, where it failed to move away from, with Crackers left as the only mobile robot at the end of the countdown. With Coyote's immobilisation confirmed, it ended its first Head-to-Head battle with a loss.
Post-fight, Jamie McHarg noticed the damage inflicted by Matilda, with focus also turning towards Coyote's second Head-to-Head battle against reigning champions, Apollo. Unable to flatten their jaws in time for the fight, the team instead sharpened the jaws to inflict ramming damage.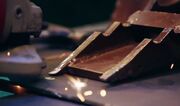 "We found in the Group Battle with Apollo that the jaws were actually really good at getting under their front flipper blade, so that was going to be our main tactic, but Matilda's put paid to that slightly, so we need to get a big hammer out, give it a bash and get the grinder out just to make sure it's nice and razor sharp for them."
— Jamie McHarg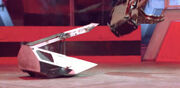 Coyote failed to move out of the starting gates, immobile on one wheel, and spun around until Apollo engaged with it, where a flip sent Coyote onto its back and into Sir Killalot's CPZ. Coyote was shunted out of the danger area by the House Robot, but once again was only able to move inside its own circumference. Another Apollo flip saw Coyote land right-side up, but its top jaw was snapped in the process.
"And Coyote is whimpering."
— Jonathan Pearce as Coyote sustains damage to its jaw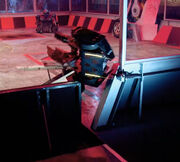 Coyote found itself stuck between Apollo and Sir Killalot for a period, before it was stacked up against the arena gate, and with Coyote unable to move, Apollo followed up with another flip, which sent Coyote over the arena wall and down into the trench.
Angela Scanlon: "Okay, so what's the plan now? Are we going to be able to patch it back together?"
Jamie McHarg: "We hope so, because we're fighting Carbide next - so it might be its final farewell!"
— Thoughts concerning the final Head-to-Head battle after a second consecutive defeat
Pointless after two Head-to-Head battles, Coyote was already eliminated, but it still had one final battle against Series 8 runners up Carbide. With Coyote's jaw repaired from its previous fight, Team Coyote entered the arena in hope of ending their Head-to-Head campaign with some points on the board.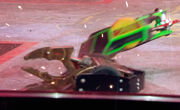 Coyote charged across the arena floor straight away but shot past Carbide in doing so. After turning around, Coyote was met with a head-on blow from Carbide which sent it reeling towards Sir Killalot. As Coyote attempted to escape the CPZ, Carbide came in with another attack that buckled the armour protecting the right hand wheel, which allowed Sir Killalot to pick Coyote up and hold it over the Flame Pit.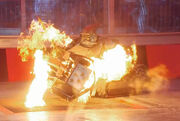 "Oh dear - and Coyote had started so well!"
— Jonathan Pearce as Coyote is held aloft by Sir Killalot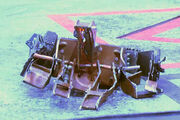 Coyote twitched after being dropped down onto the arena floor before being met with another scintillating Carbide slam which ripped the wheel from Coyote's left side off. Coyote was now left motionless, but this did nothing to halt the Carbide assault, as further damage was carried out while Coyote was being counted down. Coyote was then thrown by the Floor Flipper before finally being put out of its misery by the sounding of cease. This saw Coyote end its Head-to-Head campaign bottom of the table with zero points.
Jamie McHarg: "Total annihilation would be best to describe what's happened here."
David Moulds: "It's kind of like modern art now, isn't it?"
Jamie McHarg: "Yeah, I'll sell it for a fortune to fund the next robot!"
— The opposing team members share a laugh after Coyote's defeat to Carbide
Series 10
Edit
Coyote competed in Series 10 as a reserve, filling in for Deadlock, which withdrew due to being incomplete at the time of recording.
Wins/Losses
Edit
Series Record
Edit
NOTE: Tony Smith qualified for Series 8 with Pod, and Series 9 with Clyde Built, but had to withdraw from both series
Outside Robot Wars
Edit
Coyote, as well as Rusty, is associated with Scot Bots, which educates Scottish youth about robotics. Both robots appeared at Glasgow Science Centre as part of the Science Lates: Get Curious event on April 8th, 2017, where Coyote debuted its new jaws and chainsaw.
Coyote's top jaw was listed on eBay in April 2017. When the auction ended in early May, the item sold for a final price of £122. Other parts of Coyote were later sold in Alex Brown's Charity Auction.
Team member Jamie McHarg has fought on the live event circuit mainly with featherweights under his own team called Team Terminal Damage, which was later renamed to RogueTwo Robotics. McHarg has fought with the following robots:
Carcinus: A black two-wheeled robot with electric jaws similar in design to the Series 6-7 version of Kan-Opener. This featherweight was built in 2009 mainly for Jamie's father Michael to drive at events.
Critical Damage: A featherweight made from an inverted wheelbarrow painted in the colours of the Scottish Saltire flag.
Drumroll: Jamie's most successful featherweight, equipped with a spinning drum. Drumroll has been fighting since 2007, finishing runner-up in that year's Tag-Team Championships paired with Gary Cairns' featherweight Hornet 2, and finishing fourth in the 2009 UK Championships. The version competing now is now known as Drumroll 2, which is invertible.
Kaizer: A four-wheel drive rammer which was at one point fitted with a pair of lifting forks, similar to those of Series 2 champion Panic Attack. This robot has since been sold to Ceri Jenkins.
Mobot: Originally built from a Scot-Bots kit, a two-wheel drive rammer named after British Olympic runner Mo Farah, constructed during the time of the 2012 Olympic Games, and named after his signature celebratory pose, pictured on the robot.
Onyx: A two-wheel drive featherweight armed with an electric axe.
Reaver: A four-wheel drive robot also built from a Scot-Bots kit. This robot is armed with a vertical pincer.
In 2013, Jamie McHarg also bought Robot Wars veteran Scar from another Glasgow-based team who had other Robot Wars robots Eric and Chimera and had the intentions of restoring it. However, he didn't have the time and so sold it again to Dave Lawrie in October 2015.
Coyote is the only robot in Series 9 to have never had its weapon read out by the announcer. Instead the robot's introduction stated where the robot came from, which would be repeated as the teams entered the arena.
External Links
Edit
Ad blocker interference detected!
Wikia is a free-to-use site that makes money from advertising. We have a modified experience for viewers using ad blockers

Wikia is not accessible if you've made further modifications. Remove the custom ad blocker rule(s) and the page will load as expected.