Chainsaws
Talk

2
1,514pages on
this wiki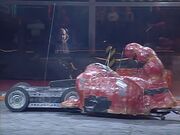 Chainsaws were gas-powered saws used by lumberjacks to cut down trees. They featured a chain with many teeth wrapped around a motor that spun the chain in an elliptical pattern. Often the chainsaw would be mounted on a servo motor so that it could be pushed further down into the other robot's shell.
Chainsaws have been used as weapons since the dawn of robotic combat. In fact, in 1994, when Marc Thorpe was putting out an invitation to builders for the first Robot Wars ever in the world, he provided a photo of a robot equipped with a chainsaw as an example of a what he thought the competitors would look like.
House Robot Matilda was the first to have a chainsaw, although it took until Series 2 for them to be used by competitors. Inquisitor, Napalm and Spin Doctor all carried them in Series 2, but all three broke before combat and were forced to rely on other factors in battle.
Chainsaws rapidly faded out of Robot Wars as roboteers discovered more efficient spinning weapons. None were seen in the UK after Series 4, and only one international competitor, Rocky Bot-Boa, used one after that.
Definition
Edit
It is very simple to tell if a robot is wielding a chainsaw. The weapon is long and uses the chain to cut.
Advantages and Disadvantages
Edit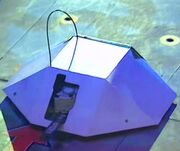 Advantages
In the early days of Robot Wars, chainsaws were fairly common because they could be purchased pre-assembled, unlike most other weapons.
Disadvantages
Chainsaws are meant to cut wood, not metal. As the latter became a more popular choice for robot armour, the chainsaw's effectiveness decreased.
Chainsaws often locked up when they came into contact with harder armour. This was seen most clearly in Overkill's battle with 101.
Chainsaws could very easily be broken. Rocky-Bot-Boa's lost its chain in its match with Tricerabot in Extreme Warriors: Season 2, Leighviathan's was wrecked by a simple push of Dead Metal's claws, and most infamously, under mild pressure from Sir Killalot, Napalm's merely fell completely out the back.
Chainsaws used gas-powered engines, which were more prone to failure than electric weaponry.
List of Robots with Chainsaws
Edit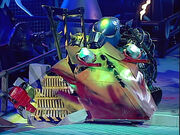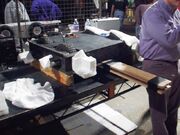 Robots are listed alphabetically. Robots that are not heavyweight are listed with a green background. House robots are listed with a red background.
| Robot | Series Appearances with Chainsaws | Notes |
| --- | --- | --- |
| Inquisitor | Series 2 | Broke before combat |
| Leighviathan | Series 2 | |
| Matilda | Series 1-4 | |
| Max Damage | Series 3 | Robot never fought, having forgotten to activate switch. |
| Napalm | Series 2 | Axe could be used to start the chainsaw. First robot to bear one in Robot Wars, but it fell out during the Gauntlet run and was never replaced. |
| Overkill | Series 3 | Part of the wedge, with the chain travelling inside and then out of the robot |
| Raizer Blade | Series 3 | |
| Rocky-Bot-Boa | US Series 2 | Last robot in any Robot Wars competition to use a chainsaw, US Season 2 grand finalist. Chainsaw was used very much like a thwackbot, similar to Lizzard's tail. |
| Scorpion | Series 4 | Last UK Series robot to use a chainsaw. |
| Spin Doctor | Series 2 | Broke before combat. More famous for using its sit-and-spin design. |
| Terminal Ferocity | Series 3 | Flipped before it could be seen. Combined with a lifter. |

This Robot Wars related article is a stub. You can help Robot Wars Wiki by expanding it.