Cataclysmic Variabot
Talk

0
1,514pages on
this wiki
Cataclysmic Variabot



C.V.

Participation Information
UK Series
Extreme 1-2
Other Names
C.V.
(Extreme 2)
Team Information
Team
Open University
Team Variabot
Team Members
John Barker
Chris Brockwell
(Extreme 1)
Lisa Blake
(Extreme 1)
David Lott
(Extreme 2)
Andrew Conway
(Extreme 2)
Other Entries
A.M.C.V.
(Extreme 2)
Robot Statistics
Weight
98kg
Dimensions
0.26m x 1.10m x 0.81m
Power
2 x 150W electric motors
Weapons
Axe, flipper, spike or circular saw

Robot statistics correct as of its most recent appearance on the show
"Cataclysmic Variabot, thanks for that one"
— Craig Charles commenting on the really complex name in Extreme 1
Cataclysmic Variabot (known as C.V. in Extreme Series 2) was a two-wheel driven box-shaped robot from Milton Keynes that competed in both series of Robot Wars Extreme. The robot was a purple box with two casters at the rear and an interchangeable axe, spike, flipper and circular saw weapons within the central bay, although only the axe was used. The original was darker, wider and not as tall as its successor. Both had strong armour but poor speed. It also greatly resembled Oblivion 2, despite it being a bit taller than Team Trinity's machine.
Cataclysmic Variabot never fought in the main series of Robot Wars, having failed to qualify for the Fifth Wars, despite beating Toe Cutter 2 in a qualifying battle. The team also entered A.M.C.V., a featherweight version of Cataclysmic Variabot, in the Featherweight Championship of Extreme Series 2, going out in the heats and also entered Techno Games with Son of Variabot a pneumatically powered rope climbing robot and "Squeeky" the maze mouse, specially designed to navigate through mazes.
Robot History
Edit
Extreme 1
Edit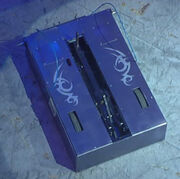 Catacltysmic Variabot's only battle of Robot Wars Extreme 1 was a Mayhem Qualifier for the second annihilator where they were up against the favourites to win, X-Terminator, and Panzer Wraith. Cataclysmic Variabot was continually picked on by X-Terminator; it was axed and shoved around by the previous Semi-Finalist, with Panzer Wraith unable to get in on the action. Cataclysmic Variabot was pushed into Shunt's CPZ by X-Terminator, then both machines with axes brought Cataclysmic Variabot out of the CPZ whilst axing away at it. The robot broke down from the onslaught, and it was counted out by Refbot. It was eliminated, along with Panzer Wraith, who was later pitted by X-Terminator.
Extreme 2
Edit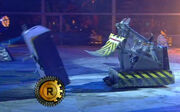 Cataclysmic Variabot, renamed C.V. for Extreme Series 2, represented the Open University for the University Challenge. In the first round, it went up against Infernal Contraption and favourites to win the competition, Behemoth. After just a few seconds of fighting, the much more agile Behemoth attacked C.V. side on and swiftly flipped it over onto its back. C.V. appeared to be unable to right itself, due to the axe not being powerful enough. Fortunately for C.V., Behemoth sportingly righted the struggling machine, but persisted in its attack and slammed C.V. into an unoccupied CPZ. Behemoth then gave C.V. the opportunity to get out of the CPZ, but Behemoth itself broke down straight afterwards. Behemoth was then counted out and held over the flame pit by Sir Killalot. This allowed C.V. to go through to the second round along with Infernal Contraption. C.V. then faced the crushing beak of Tiberius 3 in the Semi-Final round. It never used its axe effectively against Tiberius 3, despite hitting it a few times and getting a grip of the Razer-like machine at one stage, with Tiberius 3 bearing its beak down on C.V.'s shell. As Tiberius 3 then sank its jaw into C.V.'s shell, it opened the pit release button and then pushed the down-on-power C.V. down the pit, eliminating it from the competition.
"C.V., pleased to have got that far, I think."
— Jonathan Pearce afterwards
Wins/Losses
Edit
Series Record
Edit
Series 1-4: Did not enter
Series 5: Failed to qualify
Series 6-7: Did not enter
References
Edit