Caliban
Talk

0
1,514pages on
this wiki
Caliban



Caliban

Participation Information
UK Series
2
Team Information
Team Members
Eric Hodgins
Daniel Bushnell
Martin Beckett
Other Entries
Daisy Chopper
(Series 3)
Robot Statistics
Weight
54.4kg
Dimensions
0.70m x 0.70m x 0.40m
Top Speed
12mph
Power
2 x 12V batteries
Weapons
Multiple spinning weapons

Robot statistics correct as of its most recent appearance on the show
"Named after the beast in Shakespeare's Tempest"
— Jonathan Pearce
Caliban was a small cylinder shaped robot built from a bolted dexion frame that was entered in Series 2 of Robot Wars. It dramatically ended its Gauntlet run after débuting house robot Sir Killalot picked it up while Caliban was spinning and the weapons exploded. Caliban has the dubious title of being the worst performing robot in the history of The Gauntlet as it only covered an embarrassing distance of 0.2m.
Caliban could have been the first Full Body Spinner to take part in a televised showing of Robot Wars, but the team took off the body spinner to use its top mounted flail, so its body spinner was never seen in action. Interestingly, as well as the first Full Body Spinner, the team would also enter the first large vertical spinner in UK Robot Wars, Daisy Chopper, in Series 3, also failing to qualify for Series 4.
Jackson Wallop, a robot similar in design to Caliban's flail form, was entered by Team Battlebot in Series 7.
There was also a Caliban 2 listed for entry in The Third Wars, however this is likely to have been renamed Daisy Chopper, or scrapped in favour of it. [1]
Robot History
Edit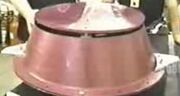 Caliban took part in the first heat of the Second Wars. In the Gauntlet stage of the heat, Caliban chose the House Robot (right-hand side) route and displayed poor steering control. It firstly drove into a spike, then hit the three meter distance marker, later knocking it off the side wall, before running into Sir Killalot, who picked it up by its own weapon and overturned it, pushing it backwards until just after cease was called. Caliban finished poorly, with a run of just 0.2 metres. Apparently Sir Killalot also cut away one of their wheels, although this was never shown on TV. According to Oliver Steeples, the Caliban team also complained that the Gauntlet was fixed just to show off the strength of Sir Killalot, but again this wasn't shown on television.[2]
"Sir Killalot closes in though! Can he stop that flail, flail... rock and roll! Caliban dead and buried."
— Jonathan Pearce as Caliban is flipped by Sir Killalot.
CALIBAN - RESULTS
Series 2
The Second Wars - UK Championship
Heat, Gauntlet
Heat A, Gauntlet
0.2m (6th)
Eliminated
Wins/Losses
Edit
Series Record
Edit
Series 1: Did not enter
Series 2: Heat, Gauntlet
Series 3: Entered with Daisy Chopper
Series 4: Failed to qualify with Daisy Chopper
Seriees 5-7: Did not enter
Caliban is one of 20 robots never to fight in robot combat, having only ever been in the Gauntlet or Trial.
Caliban's Gauntlet run of 0.2 metres proved not only to be the worst run in the series, but also the worst ever Gauntlet run on the televised show.
References
Edit