For the Extreme Warriors Semi-Finalist, see The Brute.
"A real brute, or a pussycat?"
— Jonathan Pearce introduces Broot
Broot was a large box shaped robot that entered Series 2 of Robot Wars. It was nearly 2kg over the Heavyweight limit at the time. It was eliminated in the Gauntlet stage of its heat after its wheels, which were made from plywood, were attacked by Matilda. The name Broot is a mutation of the word 'brute'.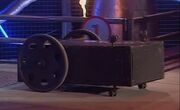 Broot was invertible, had a welded angled chassis ran on wheelchair motors and had a spring loaded rod as its weapon, called an "Untz" by the team, named after the nickname for a schoolyard punch.
"For Mark Symons's team, the design of their robot was based on three criteria: a machine that could function upside-down; high manoeuvrability, including a zero turning circle; and low cost. For the motor and batteries, the managed to obtain a second-hand wheelchair, the best and cheapest option, giving them pretty much everything they needed. The chassis was constructed of angle iron, which is made of inexpensive but very mild steel. The wheels were made of plywood, and the tyres were made of pieces of water hose hammered on to the wheels with roofing nails. (It should be clear by now that Broot is not a high-tech machine!) In spite of its unglamorous appearance and characteristics, Broot is actually a triumph of economy and ingenuity; in fact, when asked if there were any improvements he would have like to make to the robot, Mark replied that there were none that could have been made, given the cost restrictions"
— The Robot Wars Technical Manual on the construction of Broot
Robot History
Edit
Broot drove into the brick wall in the Gauntlet, but it didn't seem to have the power to break through. Matilda then pushed Broot into one of the side fences and used its chainsaw to cut through Broot's wooden wheels.
"Those wheels are made of plywood and ... oh! Matilda smells wood! And there's the immediate danger of having wooden wheels!"
— Jonathan Pearce just as Matilda uses her chainsaw on Broot's wheels
Broot was therefore immobilised. It hadn't travelled far enough in the Gauntlet, so it was eliminated from the competition.
BROOT - RESULTS
Series 2
The Second Wars - UK Championship
Heat, Gauntlet
Heat J, Gauntlet
3.0m (6th)
Eliminated
Series Record
Edit
Broot is one of 20 robots never to fight in robot combat, having only ever been in the Gauntlet or Trial.
By the time Philippa Forrester came to film an interview with the team after they were eliminated, the team had already left the studio.
Ad blocker interference detected!
Wikia is a free-to-use site that makes money from advertising. We have a modified experience for viewers using ad blockers

Wikia is not accessible if you've made further modifications. Remove the custom ad blocker rule(s) and the page will load as expected.