Black Widow was a walkerbot that competed in Series 5 of Robot Wars. In its only appearance, it was defeated by Hypno-Disc.
"Two front ramming spikes, the parts are from a scrapyard... oh, and flower pot stands from petrol stations!"
— Jonathan Pearce on Black Widow's weapons and armor
Black Widow was a large box shaped walkerbot design to look like a Black Widow spider, hence the name. It's primary weapons were two front spikes and a large overhead axe, swinging through 180 degrees. It featured light-up eyes, flammable fur, and a "web" made out of cotton wool intended to get tangled in spinners to stop them working (though this had little effect against Hypno-Disc).
Robot History
Edit
"What an unlucky draw for the Black Widow team, the Rose boys very experienced, Hypno-Disc is gruesomely destructive!"
— Jonathan Pearce at start of the battle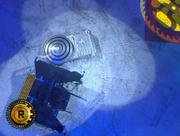 Black Widow was very sluggish as the much faster Hypno-Disc got up to full spinning speed. The Black Widow wasn't able to fend off attacks as Hypno-Disc after choosing its angle attacked Black Widow, bouncing off. Hypno-Disc came in again, its disc ripping part of the 'spider's web' strewn across the sides of the Black Widow. Another attack ripped off one of Black Widow's legs, leaving it immobile. Sir Killalot hoisted Black Widow into the air before burning it over a flame vent. He then took Black Widow to the arena floor flipper, where, remarkably, Black Widow balanced on top of the flipper. A shove by Shunt positioned it correctly and it was thrown over.
"I think that's the first time our floor flipper has failed to hoist a robot at its first attempt...balanced precariously, on a web of its own making perhaps."
— Jonathan Pearce
BLACK WIDOW - RESULTS
Series 5
The Fifth Wars UK Championship
Heats, Round 1
Heat B, Round 1
vs. Hypno-Disc (3)
Lost
Wins/Losses
Edit
Series Record
Edit
Outside Robot Wars
Edit
Black Widow also competed in Techno Games 2002 in the Heavyweight Sprint but lost to Ulysses in round 1. It qualified for the semi finals regardless but lost to Scuttle B Squared.
The team returned the following year with Incy Wincy, a entrant in the Assault Course that failed to finish in the eight fastest, despite beating Pink Pants in round 1.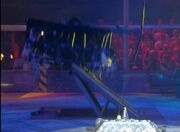 Black Widow is the first robot not to be tossed by the floor flipper on the first attempt, as it balanced on the top of the flipper and was only successfully tossed through the air on the second attempt.
Similarities with Killerkat
Edit
Bizarrely, Black Widow's performance was almost identical to the team's other entry, Killerkat.
Both fought in Heat B of their respective wars.
Both were drawn against the #3 seed (although Terrorhurtz did not fight in the Series 7 battle).
On both occasions the #3 seed was also from Oxfordshire.
Both lost their fight after being immobilised by a robot with a spinning weapon.
The fur on the machine was set alight each time and the robot was thrown by the floor flipper.
Both of their appearances were in the same heat as Kan-Opener, who also went out in the first round on both occasions.
Ad blocker interference detected!
Wikia is a free-to-use site that makes money from advertising. We have a modified experience for viewers using ad blockers

Wikia is not accessible if you've made further modifications. Remove the custom ad blocker rule(s) and the page will load as expected.