Rot Box
Talk

30
1,514pages on
this wiki
Redirected from Bang
Rot Box



Rot Box

Participation Information
US Series
1-2
Other Names
Bang
(Season 2)
Team Information
Team
Team Boltz
Team Members
Jason Barger
Brent Hunter
Robot Statistics
Weight
213lbs
Dimensions
11" x 33" x 22"
Power
2 x Wheelchair Motors
Weapons
Pneumatic Axe

Robot statistics correct as of its most recent appearance on the show
"We found this box in the barn. We call it Rot Box, and we put a little weapon on him."
— Farmer Jason on Rot Box
Rot Box was a loaner robot that fought in both seasons of Robot Wars: Extreme Warriors. It was a large wooden box armed with a morning-star axe, with the capability of pulling a pick-up truck at 14 miles per hour.
In the first season, it was given to Team Boltz and fought in the Robot Rebellion. In the second season, it was renamed Bang, it was given a new white paint scheme with red dots. Bang fought alongside Snookums in the Tag Team Terror competition, again under Team Boltz. Both times, the robot was eliminated in the first round.
"Well that's what happens when cousins marry. Kids, don't try this at home!"
— Stefan Frank
Robot History
Edit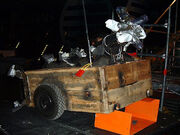 ===Season 1===
Rot Box's sole appearance was in a qualifier for the Robot Rebellion. It fought Rosie the Riveter, hitting it with the axe and dislodging parts, but was immediately out-pushed and slammed into the arena grinders. It was then caught by Dead Metal, who sliced into the wooden armour effortlessly as it struggled to escape. Rosie slammed Rot Box, causing one of its tires to burst. With a flat tire, Rot Box was unable to move sufficiently and was counted out. Sir Killalot overturned Rot Box, before roasting the wooden robot over the flames, and pitting it.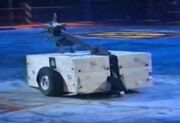 "TNT EXPLOSIVE TNT"
— Script written on Bang
Bang fought alongside Snookums in the tag team terror against G-Force and Sir Force A Lot. Snookums and G-Force started this battle. Snookums was axed, and tagged Bang. Bang had its tyre damaged by Force A Lot and drove over the flame pit. It was attacked by the house robots and pitted, along with Snookums.
Wins/Losses
Edit