"The chassis comes from a cold water storage tank, let's hope Arnold doesn't catch a cold"
— Jonathan Pearce
Arnold, Arnold Terminegger was a heavyweight robot that competed in Series 4 and the first series of Robot Wars Extreme and was the last in the line of robots from Team EyeEye. In Extreme 1, its name was shortened to Arnold A. Terminegger. After reaching the second round in the main competition, it finished as runner-up in the first Annihilator in Extreme Series 1.
Arnold, Arnold Terminegger's name was a combination of the actor Arnold Schwarzenegger and the film The Terminator.
Arnold A. Terminegger was a small box-shaped robot with glowing red eyes. The body was made from a cold water storage tank from a loft and its main weapons included a front forklift on the front that could comfortably lift 100kg powered by a winch motor, and a large 360 degree axe was added to it for Extreme. It was able to self-right from its side with the help of two bars of metal that flipped outwards propelling the robot back onto its wheels.
Its weapon system seen on the program was originally used in the team's other robot, Miss Struts. This decision was made after Arnold, Arnold Terminegger's weapon system broke.
Qualification
Edit
Arnold, Arnold Terminegger qualified for the Fourth Wars after defeating Judge Mech in its qualifier battle, allowing it to qualify for the series, while Team EyeEye's fellow entry Miss Struts lost to Destruct-A-Bubble and did not qualify.
Arnold A. Terminegger attempted to qualify for the Fifth Wars, but ultimately did not qualify, and the team did not compete in another main series of Robot Wars.
Robot History
Edit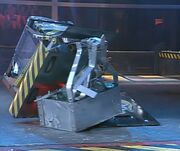 Behemoth drove under Arnold, who lifted, but failed to flip Behemoth. Behemoth and Rambot wrestled, with Arnold being flipped by the sixth seed and righted by the newcomers. Arnold responded by lifting Behemoth, eventually dropping it. Behemoth flipped Arnold again, which this time self-righted. Behemoth flipped both robots again, and Rambot rammed Arnold before the battle ended. In a very close call, Arnold A. Terminegger was deemed to have made a bigger impact than Rambot, and qualified.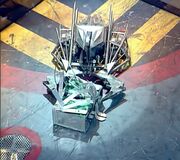 In the second round, Arnold fought X-Terminator 2. Although the seeded machine's axe was useless against Arnold's armour, it slammed Arnold into the side wall. Arnold flipped over X-Terminator, which self-righted. However, the 22nd seed persisted, and pushed Arnold into Dead Metal, and around the arena. Another Judges' decision decided the outcome of the battle, and this time Arnold, Arnold Terminegger was eliminated.
Extreme 1
Edit
"The Arnold A. Terminegger team had before in Robot Wars, entered a walking machine. A little bit more nip and tuck about it now."
— Jonathan Pearce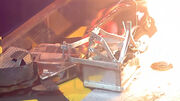 Arnold A. Terminegger was an unexpectedly valiant machine in Extreme 1. Its only appearance was in the Mayhem and Annihilator. Placing against formidable newcomers Fluffy and the long-time veterans and previous semi-finalists Wild Thing, Arnold aided Wild Thing and easily immobilised Fluffy by pushing it beneath an angle grinder. As the two then turned on each other, Arnold turned Wild Thing on its side, before blocking its attempts to self-right. It kept up the harassment, but Wild Thing wouldn't go down and it went to a split judges' decision, which put Arnold A. Terminegger into the annihilator.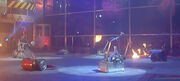 The Buckinghamshire machine went in as a severe underdog – it was the only non-Series 4 Semi-finalist in the annihilator. The first round was hectic, and Arnold joined in the attack on Hypno-Disc, after having tussled with Pussycat. It managed to survive longer than the immobilised Thermidor 2, as well as Hypno-Disc, and moved on to the next round.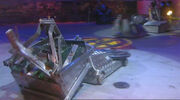 The second round saw Arnold A. Terminegger single-handedly immobilise Hypno-Disc's weapon again with axe attacks, before Splinter and X-Terminator joined in. Arnold was also given the chance to lift the former runner-up However, it was X-Terminator that fell out from damage inflicted by Pussycat and Hypno-Disc.
Julia Reed: "One of the things I love about the Annihilator is that a robot that we thought was probably the weakest is still here at this stage. It's fantastic. Why do you think that is?"
Ian Inglis: "I think it's because the other robots keep fighting each other and leaving us alone."
— Post-Round 2 pit chat
Team EyeEye revealed that each strike was doing Arnold severe damage, and that they were fortunate to still be around. In Round 3, Arnold was struck by Pussycat, but as a result, bumped into Hypno-Disc, which became immobilised after its contact with Arnold. The three mobile robots fought needlessly until Hypno-Disc was counted out and pitted.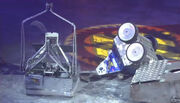 Round 4 saw a very disadvantaged Arnold fly under the radar whilst Pussycat and Splinter fought, with the latter becoming immobilised following damage from Pussycat's disc. However, after Splinter's defeat, Arnold slipped in and pushed Pussycat onto its side, which buckled Pussycat's blade and caused it to break off, as the disc's bolts were loose. The two were through to the Final.
"He's got to be the luckiest robot in creation, he really has."
— Alan Gribble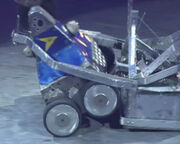 The final was very close, as Arnold battered Pussycat and
Cold Fusion Team
's machine slashed at Arnold in return. Pussycat's blade caught at one point, but Arnold's seemingly numerous axe blows missed repeatedly. Later on, Arnold brought its axe over the top of Pussycat like a ring on a pole, and dragged Pussycat around. By the end, Arnold's axe had stopped working.
"Brilliant to get this far for Arnold A., because no one thought they would, to be honest."
— Jonathan Pearce
The judges' decision went to Pussycat, leaving a battered Arnold A. Terminegger as the runner-up.
"I was expecting we would lose against Pussycat."
— Holly Inglis
"I was expecting that we would lose the whole Annihilator!"
— Ian Inglis
ARNOLD, ARNOLD TERMINEGGER - RESULTS
Series 4
The Fourth Wars - UK Championship
Heat, Round 2
Heat N, Eliminator
vs. Behemoth (6), Rambot
Qualified
Heat N, Semi-Final
vs. X-Terminator 2 (22)
Lost
ARNOLD, A. TERMINEGGER - RESULTS
Extreme Series 1
Mayhem & Annihilator
Runner-up in First Annihilator
Mayhem Qualifier
vs. Fluffy, Wild Thing
Won
Annihilator 1, Round 1
vs. Hypno-Disc, Pussycat, Splinter,
Thermidor 2, X-Terminator
Qualified
Annihilator 1, Round 2
vs. Hypno-Disc, Pussycat,
Splinter, X-Terminator
Qualified
Annihilator 1, Round 3
vs. Hypno-Disc, Pussycat, Splinter
Qualified
Annihilator 1, Round 4
vs. Pussycat, Splinter
Qualified
Annihilator 1, Final
vs. Pussycat
Lost
Wins/Losses
Edit
Series Record
Edit
Outside Robot Wars
Edit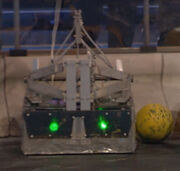 Like many competitors on Robot Wars, Arnold, Arnold Terminegger also competed on Techno Games. It competed in the football competition and was called A.A.T., teaming up with Savage Toaster from Team Onslaught. It also entered the Assault Course but lost in round 1 to Wolf.
After Robot Wars ended, Arnold A. Terminegger made an appearance at the London Expo event in 2005 where it was on static display with Behemoth, Merlin, Terrorhurtz, Kat 3 & Firestorm 5.
At 73.6kg, Arnold, Arnold Terminegger was the lightest robot to enter the main competition of the Fourth Wars.

However, this means that out of all the robots to be the lightest in a particular series, Arnold, Arnold Terminegger was the second-heaviest, behind Series 7's Araknia.
Ad blocker interference detected!
Wikia is a free-to-use site that makes money from advertising. We have a modified experience for viewers using ad blockers

Wikia is not accessible if you've made further modifications. Remove the custom ad blocker rule(s) and the page will load as expected.