Argh! was a featherweight robot that competed in and won the Featherweight Championship of the second series of Robot Wars Extreme. It was entered by Team Reptirron, who also competed in Series 4, 6 and 7 of Robot Wars with the Reptirron series of heavyweight robots, although with considerably less success. Like all the other featherweight champions, Argh! did not return to defend its title.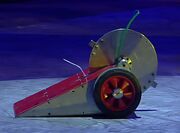 Argh! was a red wedge-shaped robot with two wheels and armed with a large spinning disc. The disc proved considerably destructive, capable of cutting through other robots' armour and dislodging one of Gladiator's wheels in its Final.
Robot History
Edit
Extreme 2
Edit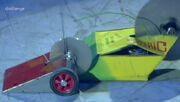 In the heats, Argh! began by attacking Eddy Evolution, tearing parts off of the latter robot. However, it spent most of the battle attacking Neoteric, causing substantial damage and eventually immobilising the other disc-wielding robot. While Argh! attacked Neoteric, Eddy Evolution, A.M.C.V. and Gi-Ant-O had also become eliminated, allowing Argh! to go through alongside Bernard.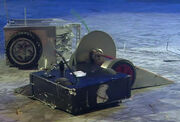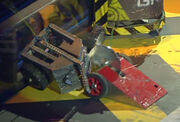 In the Final, Argh! charged straight into the middle of the action, cutting into several opponents before becoming beached on Cutlet. Escaping, Argh! then ran into Gladiator, sending it flying up onto its rear. It then attacked the one-wheeled Katnip, carefully pushing it into the pit. Argh! slid beneath Bernard, but an attack from Micro-Mute caused both machines to separate. Soon after, Cutlet broke down as a result of the damage it received from Argh!, and Bernard was left beached on the edge of the pit. Finally, Argh! charged into Gladiator, pushing it into the side wall and dislodging one of its large wheels. Argh! tried to pit Cutlet as time ran out, and unanimously won the Judges' decision.
ARGH! - RESULTS
Extreme 2
Robot Rampage
Featherweight Championship, Champion
Round 1
vs. Katnip, AM CVn, Gi-Ant-O, Neoteric, Bernard, Eddy Evolution
Qualified
Final
vs. Bernard, Katnip, Micro-Mute, Cutlet, Gladiator
Won
Wins/Losses
Edit
Series Record
Edit
Ad blocker interference detected!
Wikia is a free-to-use site that makes money from advertising. We have a modified experience for viewers using ad blockers

Wikia is not accessible if you've made further modifications. Remove the custom ad blocker rule(s) and the page will load as expected.