Arena Killer
Talk

12
1,514pages on
this wiki
Arena Killer



Arena Killer

Participation Information
Dutch Series
1
German Series
1
Other Names
Absolut Krankhaft
(German Series)
Team Information
Team
Team KOSMOS
Team Members
Jeroen "Kos" van der Loo
Peter van Berkel
(Dutch Series 1)
Jochem Morval
(Dutch Series 1)
Werner Hess
(German Series)
Robot Statistics
Weight
98kg
Dimensions
0.42m x 1.02m x 0.61m
Power
2 x 500W electric motors
Weapons
Flipper

Robot statistics correct as of its most recent appearance on the show
Arena Killer was a competitor in the first series of Dutch Robot Wars. It was a blue basic wedge shape, with a black electric powered lifter. It fought through to the second round, where it fell to eventual runners-up Lizzard.
In addition, Arena Killer fought in German Robot Wars under the name Absolut Krankhaft, German for "Absolutely Nauseating", because there were not enough German robots. Because the letters were welded on the robot, the team needed a name for the German Series that used the same letters. It was chosen by Jeroen's teammate Werner who did the interviews in the German language. Absolut Krankhaft fell in the first round against eventual winner and runner-up Black Hole and Tsunami.
Arena Killer was dismantled a few years ago, with team captain Jeroen van der Loo focusing on his new machine, Tough As Nails.
Robot History
Edit
Dutch Series 1
Edit
In its first battle, Arena Killer faced Lethal Swan. The robots danced around each other for a little before Arena Killer attacked Lethal Swan from the side, flipping it over and immobilizing it. In the second round, Arena Killer met Lizzard. Several times, it tired to lift Lizzard, but had no success. It was swiped by Lizzard's tail before being pushed into a CPZ, where Shunt axed it and flipped it with its scoop. Arena Killer could not self-right, so Shunt axed its underside before righting it. Lizzard was immobilized by the house robots at the end, but the match still went to a jury's decision because Lizzard was still mobile and should not have been attacked. The decision was in favour of Lizzard
German Series
Edit
"It was a very quick fight, where I first found out the power of a spinning weapon from the opponent."
— Jeroen van der Loo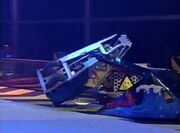 Arena Killer also entered German Robot Wars under the name Absolut Krankhaft. Almost immediately in its melee, a team effort by Black Hole and Tsunami threw Absolut Krankhaft onto its back, Black Hole cutting through the 2mm steel plate armour and bending the 5mm flange from the IPE80 frame in the process. Tsunami then righted Absolut Krankhaft; however almost immediately flipped it over again. Absolut Krankhaft was counted out by Refbot and paraded around the arena by Sir Killalot, flipped by the floor flipper and eventually pitted, eliminating it from the competition
ARENA KILLER - RESULTS
Dutch Series
Series 1
Dutch Championship
Heat Semi-Final
Heat A, Round 1
vs. Lethal Swan
Won
Heat A, Semi-Final
vs. Lizzard
Lost
ABSOLUT KRANKHAFT - RESULTS
German Series
German Robot Wars
German Championship
Heat, Eliminator
Heat B, Eliminator
vs. Tsunami, Black Hole
Eliminated
Wins/Losses
Edit
Dutch Wins: 1
Dutch Losses: 1
German Wins: 0
German Losses: 1
Series Record
Edit
Dutch Series
Edit
German Series
Edit
Arena Killer is the only robot to enter two different national versions of Robot Wars (Dutch Series 1 and the German Series) that never entered the UK Series. However, its successor Tough As Nails entered the seventh UK series.