Angela Scanlon (born 29th December 1983) is an Irish stylist, journalist, and television presenter. Her best-known work before Robot Wars was hosting the online backstage content for The Voice UK, having previously released documentaries, Oi Ginger!, and Full Frontal. In-between the filming and airing of Series 8, Scanlon also became a radio presenter. She has also written for various well-known women's magazines, such as Grazia and U Magazine. She was announced as one of the co-presenters of Series 8 on 3rd February 2016, alongside fellow Irish presenter Dara Ó Briain, and is confirmed to reprise her role in Series 9[1].
Scanlon wore blue overalls, provided by Topshop, during Series 8.
Robot Wars
Edit
Angela starts out as a relative unknown to many Robot Wars fans, with this role considered by some as her "big break" into a wider television audience. She spoke to of her excitement online:
"So excited to be joining the mighty @daraobriain on the brand new series of ROBOT WARS!!!!"
— Angela's Twitter Account
Her role in Robot Wars is a far more important one than previous female presenters, as while Scanlon reports and talks to teams in the pits like Philippa Forrester, Julia Reed and Jayne Middlemiss, she also interviews teams in the main boxes, and presents the show as a whole, equal in role to co-host Dara Ó Briain.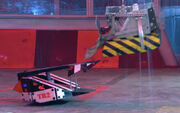 In Episode 1 of Robot Wars: Battle of the Stars, Angela Scanlon took to the controls of Behemoth to battle Dara, who was controlling TR2. Scanlon repeatedly missed with her flips, overturning her robot in the process, allowing TR2 to throw it around. Behemoth's only flip came when Dara Ó Briain willingly allowed Angela to flip TR2, and three minutes passed, with no official winner being declared. Unaired on television, the two continue to battle after cease, but Scanlon eventually drove Behemoth into the pit[2].
"Behemoth let me down, Dara Ó Briain was merciless!"
— Angela Scanlon[3]
References
Edit
↑ http://www.bbc.co.uk/mediacentre/latestnews/2016/robot-wars?ns_mchannel=social&ns_campaign=bbc_press_office&ns_source=twitter&ns_linkname=corporate
External Links
Edit
Ad blocker interference detected!
Wikia is a free-to-use site that makes money from advertising. We have a modified experience for viewers using ad blockers

Wikia is not accessible if you've made further modifications. Remove the custom ad blocker rule(s) and the page will load as expected.