Alien Destructor
Talk

1
1,514pages on
this wiki
Alien Destructor



Alien Destructor 2

Participation Information
UK Series
Extreme 1
Dutch Series
1-2
Other Names
Alien Destructor 2
(Dutch Series 2)
Team Information
Team Members
Kees Sicking
Frank Laan
Niels Schotten
(Dutch Series 2)
Other Entries
Das Gepäck
(Dutch Series 2, UK Series 6)
Robot Statistics
Weight
100kg
Dimensions
0.26m x 1.04m x 0.86m
Power
2 x 750W Electric Motors
Weapons
Pneumatic Spike

Robot statistics correct as of its most recent appearance on the show
Alien Destructor was a Dutch machine that fought in a one-off battle in Robot Wars Extreme: Series 1, as well as the first series of Dutch Robot Wars. Teaming up with Philipper, it fought in the International Mayhem against twice UK Champion Chaos 2. Alien Destructor 2 fought in Dutch Series 2. The design was highly inspired by the Xenomorphs from the film franchise Alien. The first version was six-wheel drive and featured a harpoon tail and pneumatic spike, not unlike the tail and tongue of the alien creature. Its two-piece fibreglass shell was described as looking like a "woman's back" on one side, and a skeletal version of the same on the other. The second version was a metal box with a female alien painted on, the front and back on each side instead of the skeleton. It retained its predecessor's spike but not the tail, and had only four wheels.
Neither machine was particularly successful in the Dutch Series as Alien Destructor was beaten in its heat semi-final in the first series by Twisted Metal, and defeated in the first round by Krab Bot in the second series.
After Robot Wars, the team bought Hard.
Robot History
Edit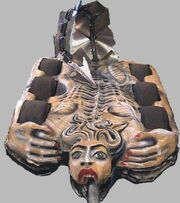 Extreme Series 1
Edit
This fight was filmed after the Dutch Series, where Alien Destructor took heavy damage. The team repaired what they could, but had to scrap most of the tail and several damaged pieces of the "woman's back". Alien Destructor and Belgian machine Philipper fought in a 2-on-1 bout against Chaos 2 in Alien Destructor's only battle in this series. It largely stayed away from the other two robots in the opening stages, before showing good power to reverse Chaos 2 into a CPZ. Chaos 2 flipped Philipper onto Alien Destructor before throwing the Dutch machine as well. Dead Metal grabbed and attacked Alien Destructor despite it not being in a CPZ. It eventually got away, but Philipper became immobilised on its side. Alien Destructor spent the remainder of the fight avoiding Chaos 2, so it survived to take the battle to a judges decision. The judges awarded the win to Chaos 2.
Dutch Series 1
Edit
"She smells blood!"
— Frank Vaan
Alien Destructor's first battle was against Scraptosaur. The robots had a tentative start with little interaction. Alien Destructor veered into a CPZ, where Sir Killalot cut off some of its decorative shell while Sergeant Bash grabbed its tail. After Alien Destructor was let go, it slammed into Scraptosaur and rammed it against the wall. Sergeant Bash grabbed its tail once more before Alien Destructor went for the pit release. As the clock ticked down, Alien Destructor rammed Scraptosaur again, and Sir Killalot pinched its tail one last time. The match went to the jury, who ruled in favour of Alien Destructor. Alien Destructor's next opponent was Twisted Metal. The robots collided with each other, and Twisted Metal tore into Alien Destructor's shell. Twisted Metal continued attacking, repeatedly striking Alien Destructor's tail. Alien Destructor managed to flip Twisted Metal up, but this did little to deter Twisted Metal's onslaught. As the clock ticked down, Killalot came in and chopped off Alien Destructor's tail. Alien Destructor lost the resultant jury's decision.
Dutch Series 2
Edit
It did not take long at all for Krab Bot to grab Alien Destructor 2 with its pincers, but it let go almost immediately. Alien Destructor 2 responded by ramming Krab Bot into the arena wall to leave Krab Bot open to attack from Dead Metal. Krab Bot used its claws to grip Alien Destructor again, almost knocking both machines off balance. The pair remained in this embrace, pushing each other around until the house robots attacked Alien Destructor. Dead Metal's saw blade cut into two of its tyres while Sergeant Bash caused Alien Destructor damage with the front pincer. By the end of the battle, Alien Destructor was smoking but still mobile. Despite this, Alien Destructor was eliminated.
ALIEN DESTRUCTOR 2 - RESULTS
Dutch Series
Series 2
Dutch Championship
Heat, Round 1
Heat C, Round 1
vs. Krab Bot
Lost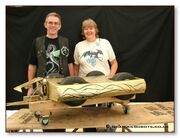 Wins/Losses
Edit
UK Wins: 0
UK Losses: 1
Dutch Wins: 1
Dutch Losses: 2
Series Record
Edit
Series 1: Heat, Round 2
Series 2: Heat, Round 1 and entered with Das Gepäck