4x4 was a heavyweight robot from Series 6 of Robot Wars. It was entered by Team Monad, and like their other entries (Monad in Series 5 and Topbot in Series 7), it wasn't able to win a battle.
4x4 was box-shaped in design, and featured a large ground clearance. It had a pair of front pincers that was known as a 'clamp' as its weaponry, like its predecessor Monad. Knowing that 4x4 would need to fight Hypno-Disc and Barber-Ous, it used a string of cloth to snag spinning discs. It had a 50CC moped engine to power three hydraulic pumps and was armoured in titanium. However, it featured limited petrol on board, which was flammable.
Robot History
Edit
"When the chainsaw gets in, it snags the chainsaw. So we're going to line the whole robot to snag"
— Benny Karstel explaining why they are using the cloth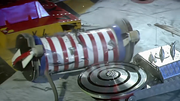 4x4 was drawn against Barber-Ous 2, Granny's Revenge 2 and the 4th seed Hypno-Disc, the spinners being the reason for 4x4's cloth modification 4x4 pushed Barber-Ous 2 into the CPZ, also helping Barber-Ous push Granny's Revenge 2 almost over the arena wall. However, Barber-Ous pinned 4x4 up by an angle grinder and ripped away its cloth, which had not stopped the spinning weaponry as intended. At this point 4x4 became immobilised against the arena wall. Hypno-Disc added to Team Monad's misery by causing 4x4 more damage, and it was eliminated along with Granny's Revenge 2.
Wins/Losses
Edit
Series Record
Edit
Outside Robot Wars
Edit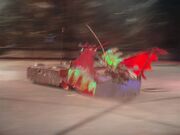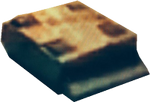 4x4 made a limited number of appearances at live events after Robot Wars went on hiatus, as Topbot was ineligible to compete, due to the rule on spinning weapons. It was rebuilt as an invertible rambot with a wedge. One event it fought at was Robots of Destruction in 2005, where it fought Chompalot.
Many of the parts used for 4x4 were originally present on its predecessor, Monad.
4x4 is one of the two robots from Ireland to compete in Series 6, and the only one from the Republic of Ireland.
Just like its predecessor Monad, 4x4 appeared in the same heat as Barber-Ous and Kat 3.
The workbench that 4x4 and its team used in the Sixth Wars was, coincidentally, numbered 44.
Ad blocker interference detected!
Wikia is a free-to-use site that makes money from advertising. We have a modified experience for viewers using ad blockers

Wikia is not accessible if you've made further modifications. Remove the custom ad blocker rule(s) and the page will load as expected.