√3 (also referred to as V3 or V32, and pronounced Wortel drie in Dutch; the name meant 'weight of 3') was a three-part clusterbot that competed in the second series of Dutch Robot Wars. It was relatively successful, winning two fights (via judges' decisions) and reaching the Heat Final, before losing to eventual champion PulverizeR.
√3 was unique in that it was the only clusterbot prior to Series 8 which was made out of more than two robots. Unlike two-part clusterbots, √3 required two of its three thirds to be immobilised, pitted or thrown out of the arena in order for the whole robot to be eliminated.
√3 was an unusual clusterbot made out of three smaller robots, which resembled a Formula One car when joined together. All of the robots were painted black and yellow, and consisted of the following, from front to back:
S.O.Xbot (also known as Son of Xbot): a wedged robot with two outside wheels and a flipper.
Elevation: A box-shaped robot with a pneumatic flipping arm, which formed the clusterbot's middle section.
ODT-0.33: A simple wedge with two outside wheels.
"...in the Dutch Series 2, we were all three in a different team with the main heavyweights, but in the same team for the clusterbot. That's why we were wearing helmets with black visors"
— WJ Dijkstra
√3 was a collaborative effort between three Dutch robot teams; each third of the robot was built and had its own name based on the respective team members' other entries. Three roboteers from Impact, Gravity and ODT-Zero joined to create the three part clusterbot, each wearing white racing helmets to keep with the robot's race car theme. S.O.Xbot was built by Jeroen van Lieverloo from Impact, Elevation was built by WJ Dijkstra from Gravity, and ODT-0.33 was built by Alexander Russchen from ODT-Zero, hence its name.
Robot History
Edit
Dutch Series 2
Edit
√3 was placed against ODT-Zero in the first round, which was unfortunate for both teams, since the latter machine was the heavyweight entry of Alexander Russchen. Russchen was forced to abandon his heavyweight and drive his third of √3, leaving ODT-Zero in the hands of his team members.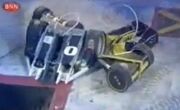 In the battle, Elevation immediately pressed the pit release button before all three parts of the clusterbot surrounded their opponent. The wedge of Elevation got underneath ODT-Zero, but did not flip it. ODT-Zero launched an attack and very nearly pushed S.O.Xbot into the pit, with the Elevation in turn pushing ODT-Zero onto the edge of the pit of oblivion. All three robots teamed up to push ODT-Zero down, but they all failed. Eventually ODT-Zero was pushed into Shunt's CPZ and it suffered a few axe blows. √3 qualified for the next round on a judges decision.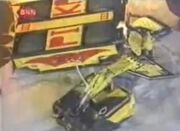 Pika 3 was √3's opponent in round 2, and it used its power to push Elevation into a CPZ. After S.O.Xbot was pushed into a CPZ, Matilda's flywheel flipped it out of the arena, chipping a camera lens in the process. The other two fought on, ramming Pika 3 against the arena side wall, before Pika got stuck under an angle grinder, and its front spike wedge was damaged when the Refbot freed it. √3 surprisingly won the resulting judges decision.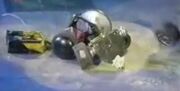 The clusterbot's run ended in the Heat Final, though. After attacking PulverizeR in a similar manner to √3's first round battle, PulverizeR flipped Elevation with its flywheel, before self-righting it. The real turning point however, was when S.O.Xbot lost a wheel after a PulverizeR attack. Elevation was tossed again, and was unable to self right. Combined with the loss of a wheel on S.O.Xbot, at least 50% of √3 was immobilised, eliminating the robot overall.
√3 - RESULTS
Series 2
Dutch Championship
Heat Final
Heat E, Round 1
vs. ODT-Zero
Won
Heat E, Semi-Final
vs. Pika 3
Won
Heat E, Final
vs. PulverizeR
Lost
Wins/Losses
Edit
Series Record
Edit
Dutch Series
Edit
UK Series
Edit
Outside Robot Wars
Edit
Up until recently, Elevation was still used as a single featherweight in Roaming Robots, and was then harvested for parts. The pneumatics from it and S.O.Xbot were sold separately in 2011 and have been built into featherweights that compete at regular events around the UK called 'Stealth' (from Team Toon) and 'Skyfall' (from Team Short Circuit). ODT 0.33 was turned into ODT 0.44 and used as a successful middleweight bot for demo fights. It is now being used as a fancy paperweight.
√3 was the only clusterbot on Robot Wars to record more wins than losses.
As one part of √3 was flipped out of the arena by Matilda, √3 is the only robot to be flipped out of the arena in the main competition and not be eliminated from the competition in the same battle.
√3 is the only televised clusterbot where the separate robots weren't identical in design, while being roughly the same weight.
√3 is one of ten robots to fight two past or future domestic champions in two successive battles, fighting Pika 3 and PulverizeR in the second and third round of its heat of Dutch Robot Wars: Series 2. The others to do this are Killertron, Cassius, Firestorm, Stinger, Razer, X-Terminator, Twisted Metal, Philipper 2 and Tornado.
Ad blocker interference detected!
Wikia is a free-to-use site that makes money from advertising. We have a modified experience for viewers using ad blockers

Wikia is not accessible if you've made further modifications. Remove the custom ad blocker rule(s) and the page will load as expected.